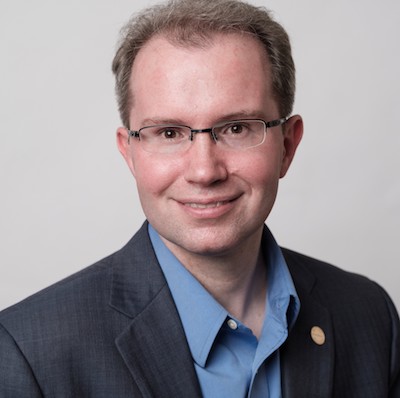 ALERT TO MEDIA:
Register in advance with: [email protected]
Executive Director for the People-Centered Internet coalition [www.peoplecentered.net], a Eisenhower and Marshall Memorial Fellow, World Economic Forum Young Global Leader, and one of the top "24 Americans Who Are Changing the World under 40", Dr. David Bray is named to deliver a future-focused AI World Society Distinguished Lecture at the United Nations Headquarters on United Nations Charter Day June 26th, 2019.
This AI World Society Distinguished Lecture named as United Nations Academic Impact Charter Day Lecture.
The Lecture will be held at the United Nations Headquarters in New York City on United Nations Charter Day June 26th, 2019 by the Boston Global Forum and United Nations Academic Impact (UNAI). Dr. David Bray will deliver this keynote address on "Artificial Intelligence, the Internet and the Future of Data: Where Will We Be in 2045?". He will focus on looking towards 2045: rapid technological change, global questions of governance, and the future of human co-existence."
The AI World Society is honored to have Dr. Bray deliver this Distinguished Lecture. Since 2017, Dr. Bray has served as Executive Director for the People-Centered Internet coalition co-founded by Vint Cerf and focused on providing support and expertise for community-focused projects that measurably improve people's lives using the Internet. Dr. Bray is both a World Economic Forum Young Global Leader and a Faculty Member for Singularity University focused on Impact and Disruption. He also is Chief Strategy Officer for the advanced geospatial company MapLarge and serves on the advisory boards of companies espousing human-centric solutions in a rapidly changing world. He also is a member of the Social Data Science Advisory Board at the Oxford Internet Institute, University of Oxford.
Dr. Bray's keynote address will explore of how advances in the Internet, artificial intelligence, and data technologies transform communities and societies. By 2045, the United Nations will be 100 years old and this distinguished lecture will consider what possible changes will have occurred in the world and human societies by then.
Business Insider named Dr. Bray one of the top"24 Americans Who Are Changing the World under 40" and he is a Senior Fellow with the Institute for Human-Machine Cognition. He has served in a variety of leadership roles in turbulent environments, including bioterrorism preparedness and response from 2000-2005, humanitarian efforts in 2009, Executive Director for a bipartisan National Commission on research and development in 2013, and as a non-partisan Senior Executive where he received the global CIO 100 Award in both 2015 and 2017. He also was named an Eisenhower Fellow and a Marshall Memorial Fellow to Europe focused on Trans-Atlantic relations. Dr. David Bray is a member of AI World Society Standards and Practice Committee.
Maher Nasser, Director of the Outreach Division of United Nations, is the moderator
Dr. Bray's talk will be followed by reflections of discussants and a larger conversation with the audience. The invited discussants include:
Fabrizio Hochschild, United Nations Under Secretary-General and Special Adviser on the Preparations for the Commemoration of the Seventy-Fifth Anniversary of the United Nations
David Silbersweig, Stanley Cobb Professor of Psychiatry at Harvard Medical School
Nam Pham, Department of Business Development and International Trade, Massachusetts Government.
Mariko Gakiya , Harvard T.H. Chan School of Public Health
The AI World Society Distinguished Lectures
The Boston Global Forum (BGF) and the Michael Dukakis Institute (MDI) for Leadership and Innovation organize the AI World Society (AIWS) Distinguished Lecture to honor people who have made outstanding contributions in AI that are associated with fostering a set of norms and best practices for the development, management, and uses of AI so that this technology is safe, humane, and beneficial to society.
The AIWS Distinguished Lectures focus on the ideas and visions of the honorees that brought them to their current position of achievement and highlight actions need to help shape a better world the future. The lectures are retained as part of the historical records at AIWS House, published in an e-book and featured in a special section of the Shaping Futures Magazine. BGF and MDI promote work on a 7-layer model for AI and society [https://bostonglobalforum.org/bgf2022/bgf2022/wp-content/uploads/sites/25/The-BGF-G7-Summit-Report.pdf].
About the Boston Global Forum
Based in Boston, Massachusetts, BGF was co-founded by Governor Michael Dukakis and professors, scholars of Harvard University to bring together the world's thought leaders and experts to participate in open public forums to discuss and illuminate the most critical issues impacting the world at large.
BGF's principal mission is to provide an interactive and collaborative world forum for identifying and developing action-based solutions to our most profound problems. Its method is to host gatherings of thought leaders and experts to identify and explore the most pressing societal concerns and propose creative and practical solutions.