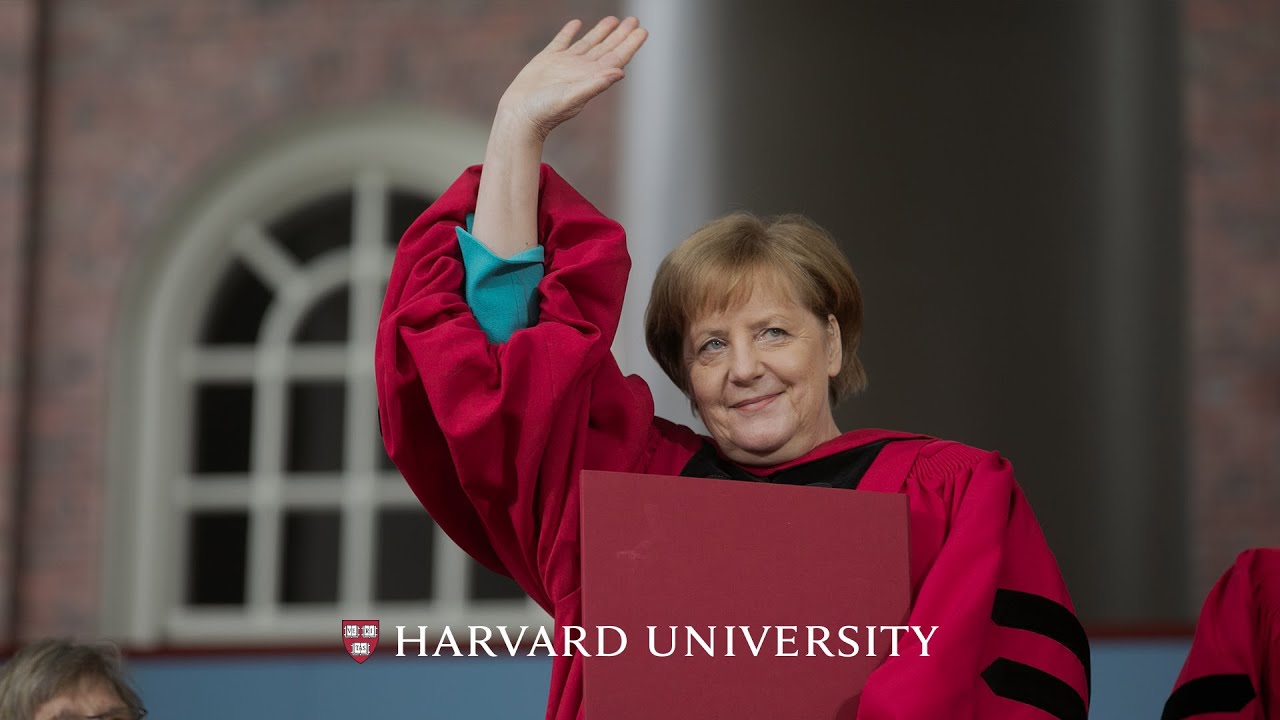 German Chancellor Angela Merkel, widely regarded as the most respected leader in the world, was awarded an honorary Doctor of Laws degree at Harvard University on Thursday.
The award ceremony took place during Morning Exercises, while the Chancellor also addressed the annual meeting of the Harvard Alumni Association during the Afternoon Program at the 368th Commencement.
Trained as a quantum chemist, Merkel spent her first 35 years living in Soviet-controlled East Germany working at a state-run research center until the fall of the Berlin Wall in 1989. That historic shift prompted Merkel to abandon scientific work and embrace a lifelong interest in politics, steadily ascending the ranks of a newly unified German government.
Elected chancellor in 2005, Merkel is the first woman and the first East German to hold her nation's highest elective office. When she steps down in 2021, she will be Germany's second-longest-serving leader of the modern era, after her former mentor, Helmut Kohl, who spoke at Harvard's Commencement in 1990.
Past recipients of the honorary degree include former British Prime Minister Winston Churchill and former U.S. Secretary of State George Marshall.
On Global Cybersecurity Day, December 12th 2015 at Harvard University Faculty Club, The Boston Global Forum honored Chancellor Merkel as one of its "World Leaders for Peace, Security and Development''. Global Cybersecurity Day is marked every year in various cities around the world as a way to inspire the shared responsibility of the world's citizens to protect the safety, transparency and security of the Internet.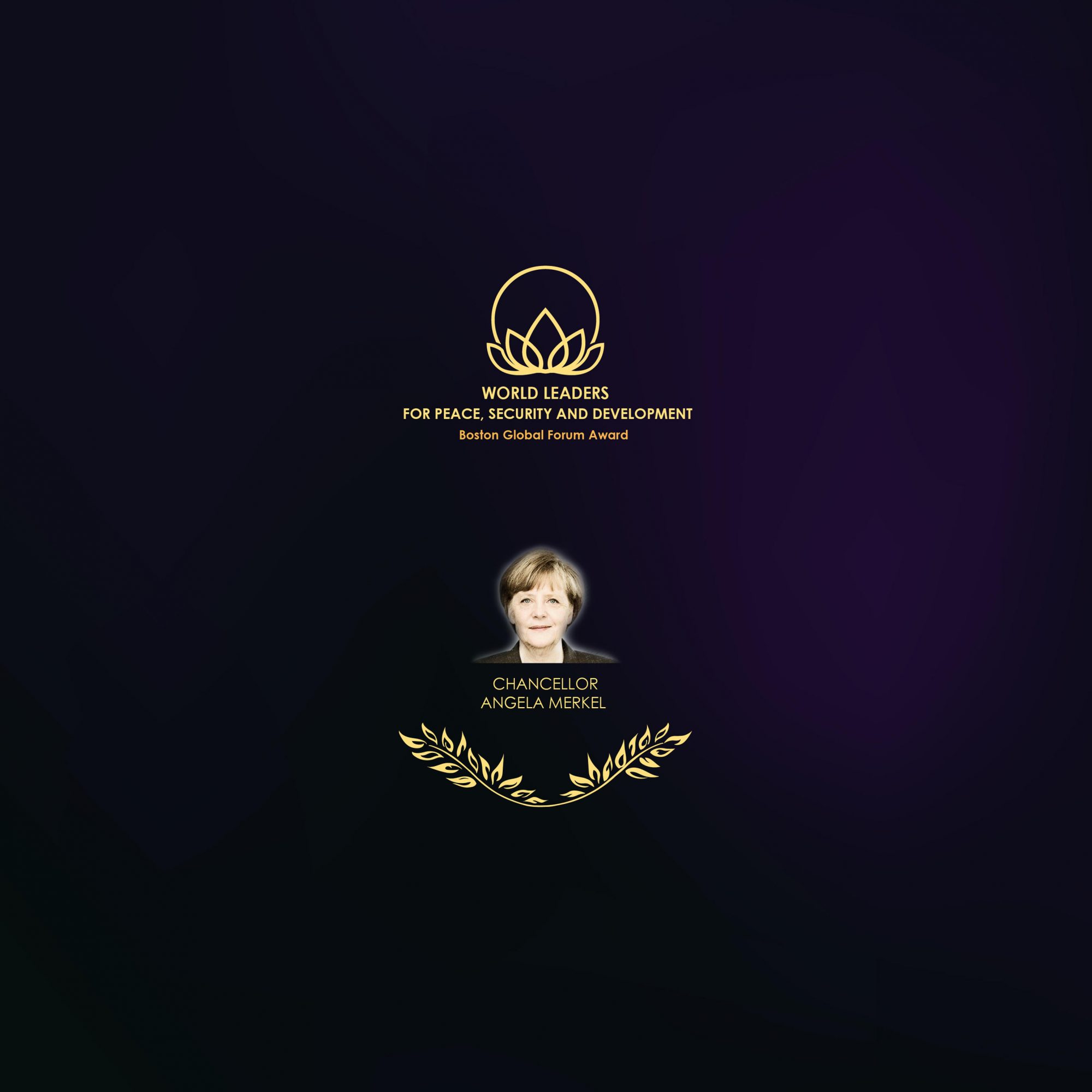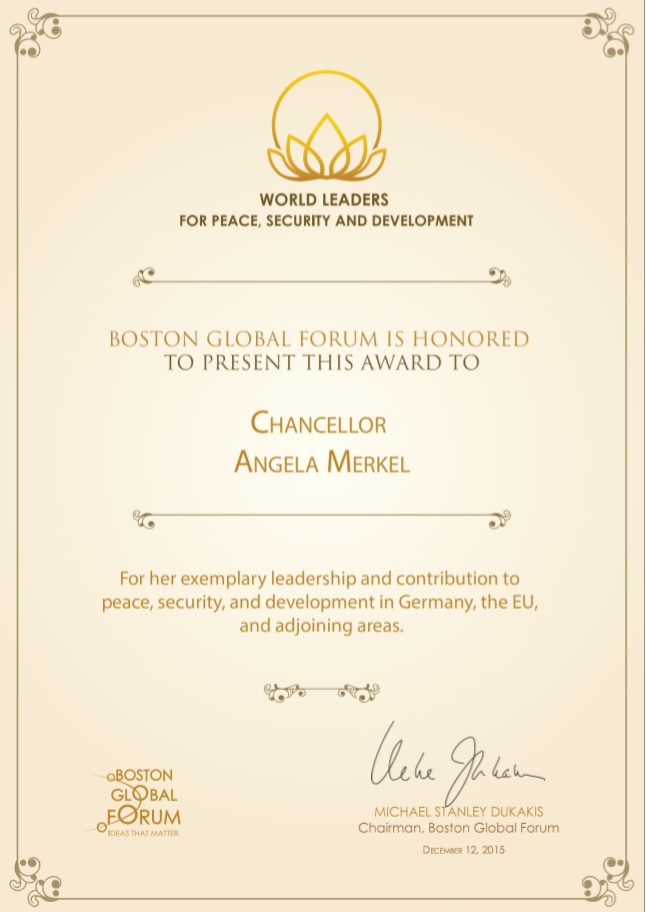 Other honorees of BGF's World Leaders Award include Japan's Prime Minister Shinzo Abe, former United Nations Secretary-General Ban Ki-Moon, Estonian President Toomas Hendrik Ilves, Finland President Sauli Niinisto, OECD Secretary General Ángel Gurría, and most recently Vint Cerf, one of the Father of Internet.