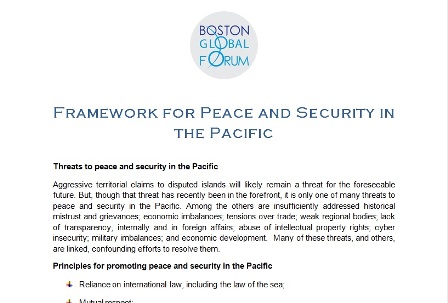 Mission:The Goal of the Framework is to prevent armed conflict among the US, China, Japan, Vietnam and other Pacific nations with its Framework for Peace.
Date of publishing: December 12, 2014
Chair:
Governor Michael Dukakis –  Co-Founder, Chairman, Boston Global Forum
Professor Joseph S. Nye, Jr. – Member of Board of Thinkers, Boston Global Forum; University Distinguished Service Professor; Former Dean, Harvard Kennedy School
Contributors: Prof. Joseph Nye, Prof. Thomas E. Patterson; Prof. Erza Vogel; the Hon. Kevin Rudd;President of the Club of Madrid Dr. Vaira Vike-Freiberga; Nguyen Anh Tuan; Deputy Assistant Secretary of State Michael Fuchs; Ambassador Ichiro Fujisaki; Amb.Seiichi Kondo; Prof. Dairokuno Kosaku;Robert D. Kaplan; Professor Richard Rosecrance; Dr. Patrick M. Cronin; Bonnie S. Glaser; Professor Etel Solingen; Professor John Quelch; Ambassador J.D. Bindenagel; Ambassador Stephen W. Bosworth; Ambassador Swanee Hunt; Professor Suzanne P. Ogden; David E. Sanger; David Case; Professor Jonathan London; Professor Richard Cooper ; Professor Barry Nolan; Llewellyn King; Thomas J. Valleyly; Charles M. Sennott; Dr. Anders Corr;  Richard Pirozzolo; Dr. Elliot Salloway and several supporters.
Read the Framework below:
FRAMEWORK FOR PEACE AND SECURITY IN THE PACIFIC 2015
1. Threats to peace and security in the Pacific
Aggressive territorial claims to disputed islands will likely remain a threat for the foreseeable future. But, though that threat has recently been in the forefront, it is only one of many threats to peace and security in the Pacific. Among the others are insufficiently addressed historical mistrust and grievances; economic imbalances; tensions over trade; weak regional bodies; lack of transparency, internally and in foreign affairs; abuse of intellectual property rights; cyber insecurity; military imbalances; and economic development.  Many of these threats, and others, are linked, confounding efforts to resolve them.
2. Principles for promoting peace and security in the Pacific
Reliance on international law, including the law of the sea;
Mutual respect;
Greater openness and transparency;
Balancing power with power;
Greater interdependency;
Increased cooperation;
Avoiding escalation of conflicts;
Multilateralism, as opposed to bilateralism.
3. Policies for promoting peace and security in the Pacific
Strengthening regional bodies, by expanding their membership and areas of cooperation;
Relying on international organizations and institutions for resolving conflicts;
Applying soft power rather than hard power solutions to encourage countries to respect international law and conventions;
Maintaining a strong U.S. naval presence in the region, as a means of protecting shipping lanes and maintaining a balance of power;
Creating a culture of dialogue, through an emphasis on transparency, openness, freedom of information, and cyber security;
Developing instruments through which countries throughout the region can work together in response to natural disasters;
Encouraging cultural, educational, and other exchanges between Pacific nations;
Connecting more closely the economies of Pacific nations as a means of building links and trust;
Promoting economic development among the less developed Pacific nations in order to give them greater independence in their dealings with other countries;
Increasing the military capacity of smaller countries in the region to deter tactical incursions on their sovereignty.