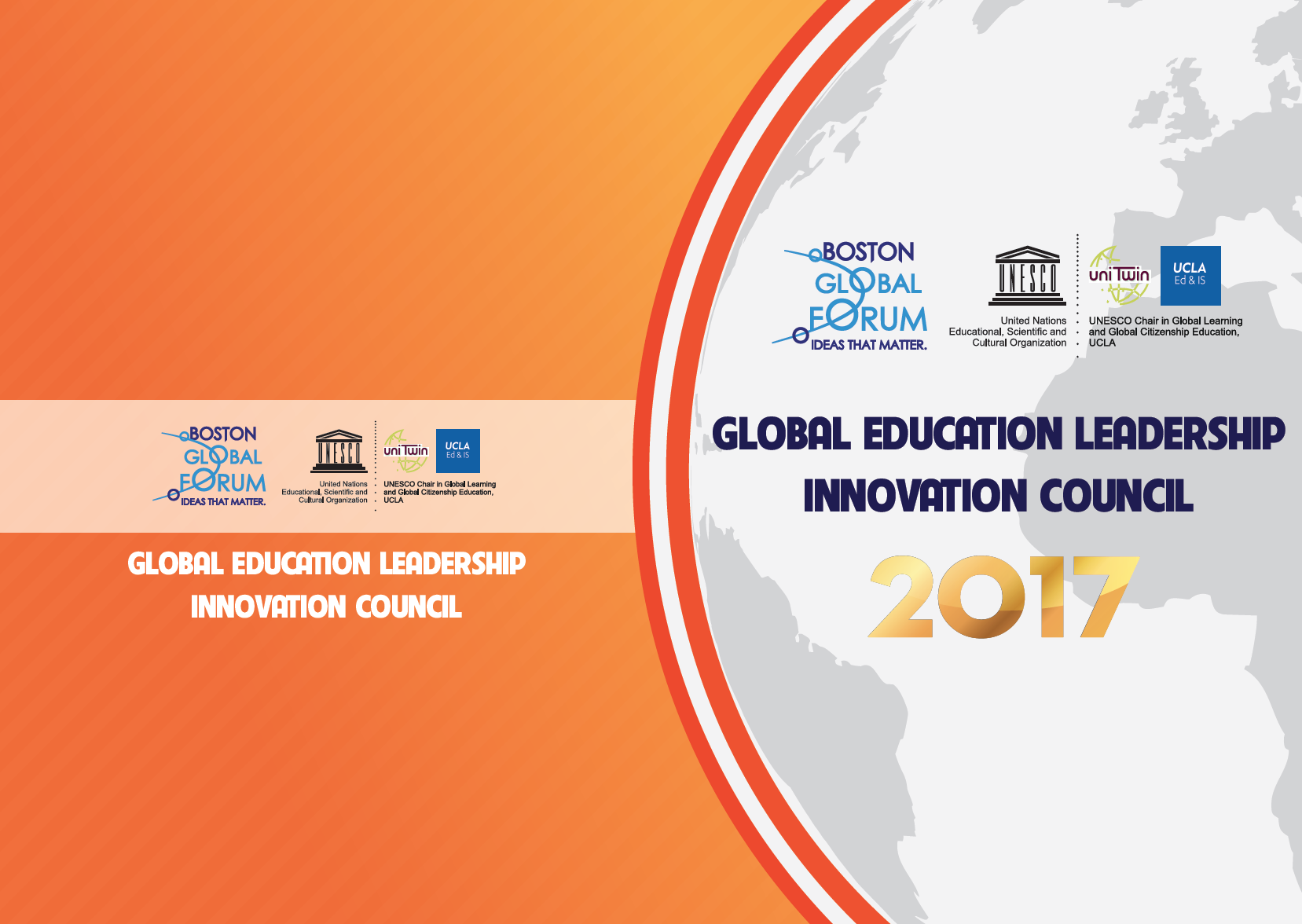 Contact: [email protected] ,  [email protected]
Webste: GCE.GSEIS.UCLA.edu Tel.: +1 617 286 6589
Boston, MA – The Global Education Leadership Innovation Council was recently created through a joint venture between the UNESCO-UCLA Chair in Global Learning and Global Citizenship Education and the Boston Global Forum.
The Council will focus on educational management and leadership in an effort to encourage the adoption of new concepts, principles, solutions, initiatives, and ideas to innovate global education. These innovations in global education are expected to be fostered by the Global Citizenship Education Network and education institutions worldwide.
Council members are:
The Council is directed by multiple well-known educational leadership professors and scholars such as:
Governor Michael Dukakis, Chairman of The Boston Global Forum
Prof. Carlos Alberto Torres, Chair, UNESCO Chair, Global Learning and Global Citizenship Education, UCLA
Prof. Patrick Winston, founder, Computer Science and Artificial Intelligence Laboratory (CSAIL) at MIT.
Prof. Nazli Choucri from Massachusetts Institute of Technology (MIT)
Prof. David Silberweig from Harvard Medical School at Harvard University
Le Phuoc Vu, Chairman of Hoa Sen Group
Tuan Anh Nguyen, Assistant and Chair of the International Advisory Committee UNESCO-UCLA Chair on Global Learning and Global Citizenship Education and CEO of The Boston Global Forum, is the permanent member of the Council.
New Concepts and Ideas for Global Education
Members of Global Education Leadership Innovation Council believe education is an inspiration to humanity. It is also a lifelong progression that should not only be made in schools but continue through events that involve all citizens in activities that promote social wellbeing.
Global Citizenship Education Network encourages the implementation of new ideas and initiatives in global leadership, management and the mobilization of religions to cooperate in educating people to be more compassionate, humane and respectful.
With the rapid development of technology, artificial intelligence (AI) and the Internet the Council will strive to automate the transfer of knowledge transfer to every region and family region around the globe.
Global Education Leadership Innovation Council will:
Announce innovations, new solutions for governance reform and global education leadership.
Announce initiatives, solutions for education reform, educational revolution around the world.
Create models, new ways of doing things contribute to a profound renewal of global education.
Honor 10 global education innovation leaders annually.
Lead the Global Citizen Education Network to host the annual World Reconciliation Day
About The Boston Global Forum
Established in 2012, The Boston Global Forum brings together, in an open and accessible public forum, an eclectic and engaging spectrum of highly regarded academic leaders, real-world experts, influential thoughts leaders, media experts and promising young leaders.
BGF's immediate goal is to identify emerging threats to peace and stability around the globe, suggest realistic solutions, and identify possible actions that can be taken to avert armed conflict. The Forum's ultimate goal is to lessen tensions, promote peace and security, and foster conditions that lead to greater social justice and broader economic prosperity wherever they are most needed.