(November 20, 2015) – Vietnam's Prime Minister Nguyen Tan Dung expressed his strong support to the Boston Global Forum's initiative of Global Cybersecurity Day and the building of the Ethics Code of Conduct for Cyber Peace and Security in his recent statement on November 19, 2015 – the day marks the time when Vietnam officially opened its access to the global Internet 18 years ago.
PM Nguyen Tan Dung's statement is published on Vietnam Government's official website (chinhphu.vn).
For a Clean and Pure Internet
(news.chinhphu.vn, November 19, 2015) – Online newspaper of the Government of the Socialist Republic of Vietnam is honored to introduce the Prime Minister Nguyen Tan Dung's statement "For a clean and pure Internet" on the occasion of events marking the day when Vietnam firstly accessed to global Internet (November 19, 1997), and the Global Cybersecurity Day (December 12,2015).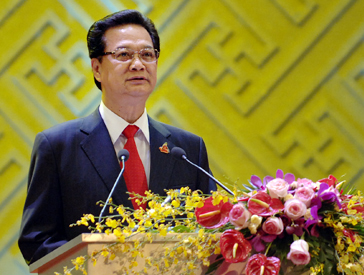 The Internet is one of greatest inventions of mankind. Thanks to its inception, the world has made a gigantic stride, gaining exceptional achievements in almost all fields, shifting the world from Industrial Civilization to a new era of globalization and knowledge economy.
It was November 19, 1997 when Vietnam officially accessed to the global Internet.
Almost two decades have passed, Vietnam has consistently pursued the policy of creating all favorable conditions for the development of the Internet. By the end of 2014, there are nearly 45 million Internet users in Vietnam, accounting for over 49% of the population, which was higher than the world's average internet penetration rate (40,4%) and the Pacific-Asia region's rate (32.4%)
Our next goal is to raise the Internet penetration rate in Vietnam to 80-90% of the population, which is equal to the current rate of developed countries. All people must have access to the Internet. All organizations and individuals have the right to access to the Internet. The Government is deploying series of programs and projects to provide special support for pupils, students, and people living in rural and mountainous areas, borderlands and offshore islands to access to the Internet. Vietnam opens its door and creates favorable conditions for both domestic and foreign IT and Internet companies to do business in the country. VietNamNet, Vnexpress, Dantri, Zingme, Google, Youtube, Facebook, Tweeter, Viber, etc., to name a few, have become popular among Internet users in Vietnam.
As a huge treasure of knowledge and globally connected environment, the Internet brings opportunities of education to all citizens, business opportunities to companies, and facilitates people-to-people exchanges across the globe. However, risks and adverse impacts arising from Internet remain visible and diverse.
The violations of intellectual property rights as well as the stealing of technologies, intellectual assets, and copyrights on the Internet keep on rising. The risk of cyber-espionage has become complicated and dangerous. DDOS attacks or hacks aiming at gaining administration privileges of websites are extremely serious. We are seeing increased number of incidents using the Internet to distribute fabricated, unverified, unreliable, malicious and tactless information in order to slander and smear individuals, organizations, and trade names; and to disseminate extremist ideologies, terrorist and sabotage purposes. It is regretful that the information is sometimes read, shared and dispersed, causing negative social effects and consequences.
I believe that the Internet is not only a useful environment facilitating technology, business, and social bonding activities, but also an important environment for culture and education development, which affects personality creation and helps shape the culture of humankind in the future. Internet also helps enhance the openness and transparency, ensure the rights of democracy-freedom, human rights, and civil rights in a progressive law-governed State in which all power belongs to people. Thus, building an Internet environment enriched with culture and humanity is what we are working on together.
I call on all people to act as the highly responsible citizens while using social network in particular and the Internet in general. Be conscious and cautious when posting and sharing information, images and data in Internet. "Netizens" should join hands in fighting for the right, fairness and elevated values so as to establish, maintain and develop a healthy and civilized Internet environment in Vietnam.
The Government of Vietnam acclaims the Global Cyber-security Day initiative aiming for A Clean and Pure Internet and highly appreciates the building of the Ethics Code of Conduct for Cyber Peace and Security initiated by policy makers, scholars and professors of the Boston Global Forum.
The Ethics Code of Conduct for Cyber Peace and Security is indeed necessary while the world is still seeking for technical solutions and building international law to resolve security issue on Internet. We – every Vietnamese citizen should work together with people around the world to build a Clean and Pure Internet environment. Harmful, unverified and unreliable information should not be uploaded and spread; vulgar words should not be used in articles, pictures, comments or conversations on the Internet to dehumanize people. IT experts need to uphold their responsibility, not to lend a hand to technology crime, not to spread virus, not to take part in cyber-attacks and cyber-terrorism activities, etc. We not only need to raise awareness of cyber security and encourage every part of society to act responsibility on Internet,  but also need to call for the global citizens through Internet to act responsibility as well and to join and support this event.
The Government of Vietnam affirms its protection to our citizens, companies and organizations, brand names of Vietnam and of foreign countries that are conducting investment activities on the Internet in Vietnam. We will continue building and improving the legal system and rules for activities on the Internet; while standing ready to participate in building the international law system on Internet security, and to join the international efforts in computer emergency response if necessary. By its experience, Vietnam will make active contributions to the improvement and enforcement of the Ethics Code of Conduct for Cyber Peace and Security.
The Internet is a driving force for development but it still needs and must be a Clean and Pure environment.
Nguyen Tan Dung
Prime Minister of The Socialist Republic of Vietnam