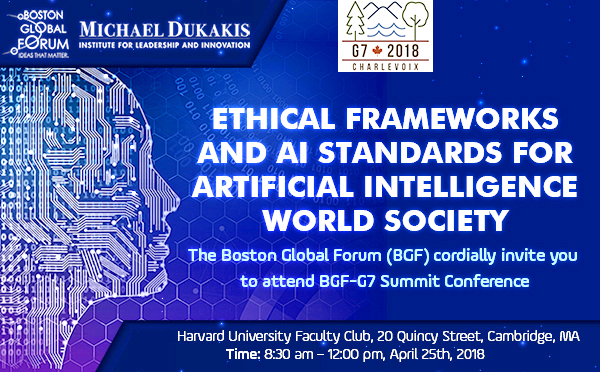 This Wednesday, April 25th, Boston Global Forum will host its annual BGF-G7 Summit Conference. This year's issue is artificial intelligence, which BGF has been working on through Artificial Intelligence World Society, a collaboration between BGF, MDI, Club de Madrid, and top AI thinkers. We will be announcing the AIWS 7-Layer Model to Build Next Generation Democracy, which we believe to be a road map to a better AI future.
This year, we will present our first ever World Leader in AI World Society Award to OECD Secretary-General 
Angel Gurria 
for his contributions and forward thinking regarding AI policy. In addition to the Secretary-General, we are honored to collaborate with other leaders in AI this year. Walter Laangelar, a co-creator of the world's first AI politician, will be speaking, as will MIT Professor Max Tegmark. We are also joined by the Honorable David Alward, Consul General of Canada, which will be hosting this year's G7 Conference.
Past accomplishments have been the Ise-Shima Norms and the Taormina Plan, both of which provided recommendations and best practices for improving cyber security worldwide. The 7-Layer Model at the core of this year's meeting will be given to the 2018 G7 Conference in La Malbaie, Quebec..
Agenda & List of attendees of BGF-G7 Summit 2018
Click here
 to download the full 2018 Conference Agenda.