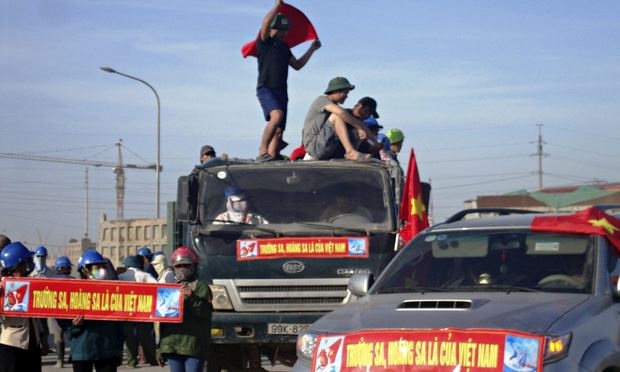 (Photo Credit: Str/EPA)
(BGF) – The Guardian reports that anti-China riots in Vietnam have turned violent, with some news agencies reporting up to 20 people dead. Consequently, Chinese nationals in Vietnam are fleeing across the border into Cambodia for their safety. The anti-China riots in Vietnam arose in response to China's placement of an offshore oil rig near the Paracel Islands, which are subject to competing territorial claims from both China and Vietnam, in the South China Sea. The resulting anger in Vietnam has led many to protest in the streets and vandalize Chinese-owned foreign businesses located in Vietnam. Click here to read the full article or visit The Guardian's website.
Chinese Nationals in Vietnam Flee to Cambodia as Anti-China Riots Turn Fatal
By Jonathan Kaiman and Kate Hodal
Violent reaction in Vietnam to China's expansionist stance in disputed seas has turned deadly, with multiple reports of people being killed during rioting that began with attacks on foreign-owned factories.
Cambodia said hundreds of Chinese nationals had poured across the border from Vietnam to escape the riots.
"Yesterday more than 600 Chinese people from Vietnam crossed at Bavet international checkpoint into Cambodia," Kirt Chantharith, a police spokesman, told Reuters on Thursday. Bavet is on a highway stretching from Ho Chi Minh City, Vietnam's commercial centre, to Cambodia's capital, Phnom Penh.
On Thursday the death toll was unclear, although some news agencies reported at least 20 people had been killed.
A top Taiwanese diplomat said rioters had stormed a large Taiwanese steel mill in Vietnam, killing at least one Chinese worker and injuring 90 more. Huang Chih-peng said the violence took place late on Wednesday and early on Thursday at the Formosa steel mill in central Vietnam.
According to the Wall Street Journal, a Chinese contractor and a Vietnamese worker died in the violence. China's state-run People's Daily tweeted that 10 Chinese nationals went missing when protesters ransacked a Chinese factory.
A doctor at a hospital in the central Vietnamese province of Ha Tinh told Reuters that five Vietnamese workers and 16 other people described as Chinese died during anti-China rioting on Wednesday night.
"There were about 100 people sent to the hospital last night. Many were Chinese. More are being sent to the hospital this morning," the doctor said.
Earlier this week mobs burned and looted scores of foreign-owned factories in southern Vietnam, believing they were Chinese-run when many were actually Taiwanese or South Korean. No deaths were reported in those initial attacks.
On Thursday, China's embassy in Vietnam urged the country's public security authorities to take "effective measures" to protect its nationals' personal safety and legal rights. The embassy made the remark in a statement published on its website, adding that China had launched an emergency mechanism to cope with the effects of anti-Chinese riots in its southern neighbour.
Anti-Chinese sentiment has been running high in Vietnam ever since Beijing deployed an oil rig into disputed waters in the South China Sea on 1 May. There have been encounters including ramming and exchanges of water cannon between Chinese vessels operating near the rig and boats from Vietnam, which wants China out of the area.
According to the English-language version of the Tuoi Tre newspaper, some 600 people have been arrested in Vietnam's southern provinces, where riots eruptedon Tuesday amid reports of looting and attacks on police officers.
The government has since issued stark warnings to the Chinese that continued so-called aggression, which had to date been met with diplomacy, would probably turn ugly if it persisted.
With reports on Wednesday from the Vietnam coastguard that the Chinese had also sent two amphibious ships equipped with anti-air missiles to protect their oil rig, commander Major General Nguyen Quang Dam said it would "make no concession to China's wrongful acts" and stressed: "Their violent acts have posed serious threats to the lives of Vietnamese members of law enforcement."
An op-ed piece in the English-language daily Vietnam News was just as transparent with its words: "The Vietnamese people are angry. The nation is angry. We are telling the world that we are angry. We have every right to be angry."
"China should stop violating international law and respect Vietnam's sovereignty," it continued, adding that China's seeming aggression "smacks of a bull doing something wrong just because it can".
Click here to continue reading.