(May 30th, 2016) The Group of Seven (G7) leaders agreed on May 26 at their summit in Japan on the need to send a strong message to China about its maritime claims in the western Pacific, where an increasingly aggressive China has territorial disputes with Japan and several Southeast Asian nations. China has been seizing and militarizing some disputed islands and reefs in the region and threatening nations in the region that have challenged the seizures.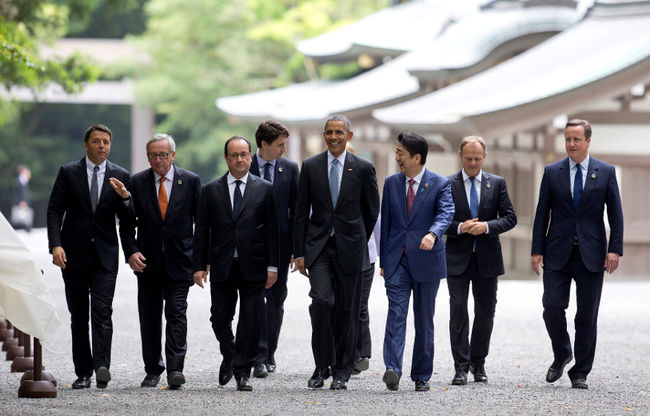 "Prime Minister (Shinzo) Abe led a discussion on the current situation in the South China Sea and East China Sea. Other G7 leaders said it is necessary for G7 to issue a clear signal," Japan's Deputy Chief Cabinet Secretary Hiroshige Seko told reporters after a session on foreign policy.
At a news conference late on Wednesday, Mr. Abe said that Japan welcomed China's peaceful rise. But he repeated Tokyo's opposition to acts aimed at changing the status quo by force and urging respect of the rule of law.
Chinese Foreign Ministry spokeswoman Hua Chunying retorted in Beijing that the South China Sea issue had "nothing to do" with the G7 or any of its members.
"China is resolutely opposed to individual countries hyping up the South China Sea for personal gain," she said.
U.S. President Obama called on China to resolve maritime disputes peacefully and he reiterated that the United States was concerned about freedom of navigation and overflights in the region, through which 30 percent of world trade passes.