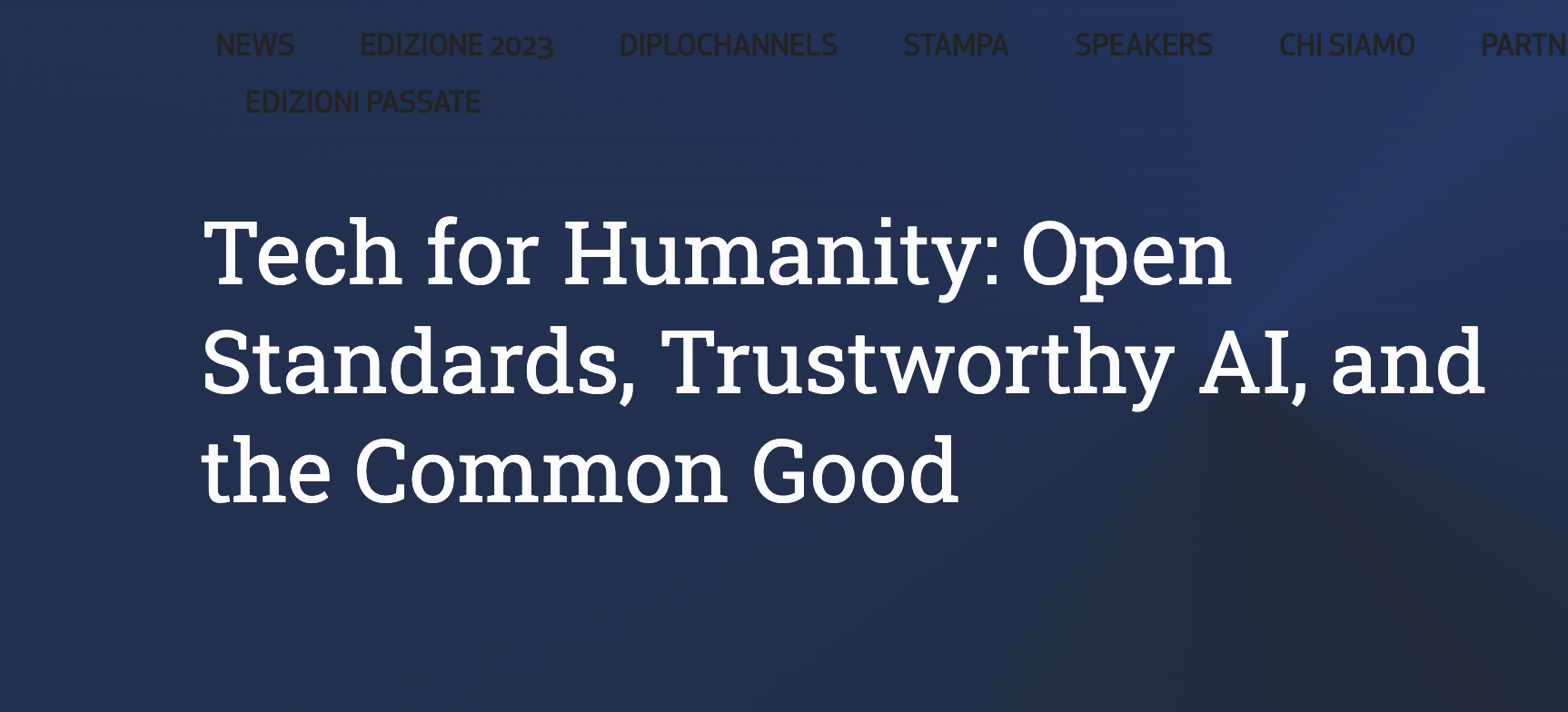 The symposium organised by the Institute of Future and Innovation Studies at John Cabot University and the Boston Global Forum, and is part of the "Festival of Diplomacy," which has been one of Italy's most important forums for international diplomacy since 2009, with the support and patronage of the Italian Ministry of Foreign Affairs, the Commission and European Parliament Representation in Italy, more than 70 embassies, seven universities, and numerous scientific partners. This symposium seeks to support all diplomatic efforts in the global coordination of a future vision of technological development and regulation aimed at promoting the use of technology and AI for peace, democracy, and the planet.
AGENDA
The seminar «Tech for Humanity: Open Standards, Trustworthy AI, and the Common Good» will investigate the role of open technical standards and open and FAIR data principles in promoting the safe, fair and sustainable development of Artificial Intelligence. Experts, policymakers, and representatives of civil society will convene to discuss how the development of shared technical standards and a global regulation and assessment of the fundamentals of AI systems is the only way to ensure that AI is developed for the benefit of humanity. The symposium will delve into the ethical considerations surrounding AI, and how technical standards can ensure that AI is developed and used in a way that aligns with values such as privacy, transparency, accountability, inclusivity, trustworthiness, and the general respect for human rights. The discussions will also address the role of stakeholders, including government, industry, and academia, in establishing a global alignment on technical standards, or Digital Compact. The seminar strives to promote global governance, technological diplomacy, and interdisciplinary collaboration among stakeholders groups, governmental and intergovernmental organization and standards organizations in the elaboration and application of global standards for Digital and AI in the effort of shaping the future for the common good of humanity and the planet.
Speakers:
Konstantinos Karachalios, Director of Standards and former Managing Director IEEE.
Domenico Squillace, President UNINFO
Gianluca Misuraca, Executive Director AI4GOV
Mihalis Kritikos, Policy Analyst at European Commission
Tuan Nguyen, CEO Boston Global Forum, (opening remarks)
Anna Gressel, Caunsel at Paul, Weiss, Rifkind, Wharton & Garrison LLP
Dario Focarelli, General Director ANIA
Francesco Lapenta, Director Institute of Future and Innovation Studies, John Cabot University. (Opening remarks)
Moderator
https://www.festivaldelladiplomazia.eu/eventi/tech-for-humanity-open-standards-trustworthy-ai-and-the-common-good/?fbclid=IwAR2Z2EuD1FY1IgHtCeIFuKX1ovnNQb9evbjD_5wbjhuxFhDhTbz8MIY07rY
SPEAKERS