World Leader in AIWS Award 2018
José Ángel Gurría is named as World Leader in AIWS 2018.
October 14, 2018
As Secretary General of the Organisation of Economic Co-operation and Development (OECD) since 2006, Ángel Gurría has firmly established the Organisation as a pillar of the global economic governance architecture including the G7, G20 and APEC, and a reference point in the design and implementation of better policies for better lives. He has broadened OECD's membership with the accession of Chile, Estonia, Israel, Latvia and Slovenia, and has made the Organisation more inclusive by strengthening its links with key emerging economies.
Since 2010, Ángel Gurría has also served as a Commissioner for the Broadband Commission for Digital Development, which is dedicated to the use of broadband technologies as a means of social and economic development.
Before becoming head of the OECD, he was Mexico's Secretary of Foreign Affairs and Secretary of Finance. He was instrumental in the negotiation of NAFTA and in guiding Mexico through its 1994 financial crisis. He also headed Mexico's National Development Bank and chaired the Inter-American Development Bank's External Advisory Group.
He is the recipient of many awards and honors, including recognition by the French, Dutch, and Korean governments. He was the inaugural recipient of the Canadian International Council's Globalist of the Year Award, for his efforts in promoting global cooperation and consciousness.
Under Ángel Gurría's leadership, OECD is leading the effort to reform the international tax system, and to improve governance frameworks in anti-corruption and other fields. OECD is addressing issues surrounding the development of Artificial Intelligence based on two fundamental questions:
What sort of policy and institutional frameworks should guide AI design and use?
And: How can we ensure that AI benefits society as a whole?
For his leadership on AI, the Boston Global Forum and the Michael Dukakis Institute honored to recognize Secretary General Ángel Gurría as the inaugural recipient of the World Leader in AI World Society on April 25, 2018 at Harvard Faculty Club.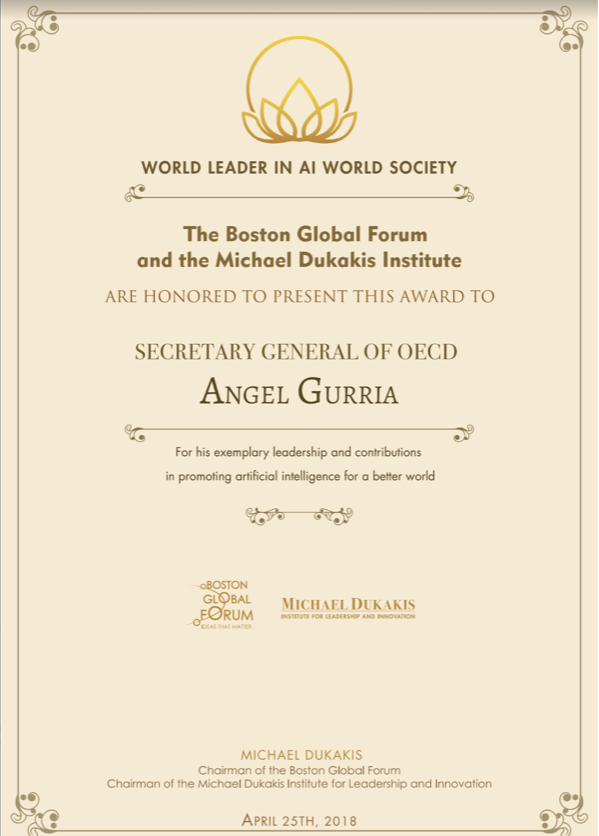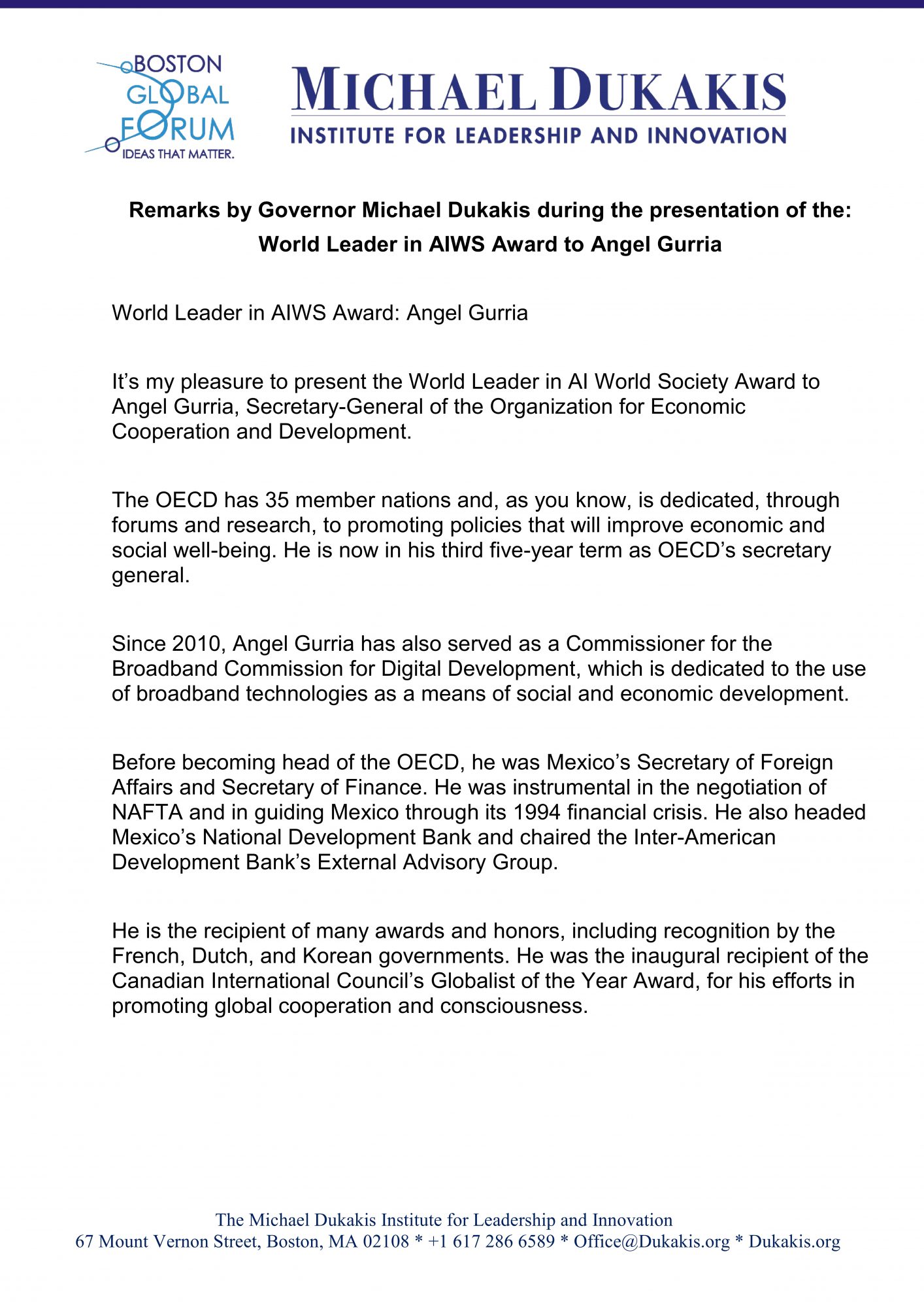 Secretary General of OECD Angel Gurria received World Leader in AIWS Award at the BGF-G7 Summit Conference on April 25, 2018 at Harvard University Faculty Club.
Governor Dukakis, distinguished ministers, professors, ladies and gentlemen, it is a great honor to receive the World Leader in Artificial Intelligence World Society Award. My sincerest thanks to the jury of the award, to the Boston Global Forum for organizing the ceremony, and to the dedicated team who have been working to advance the artificial intelligence agenda at the OECD. We're living in an era of fast-paced digital transformation. A broad range of technologies are reshaping our economies. They're actually reshaping our societies at large, but if we have to choose one transformative technology that has the potential to significantly change the world as we know it today, it's likely to be artificial intelligence, so-called AI.  It's even become a bit of a household expression, household name. AI is expected to dramatically improve the efficiency of decision making, save costs, enable better resource allocation to invest in every sector of our economies. It promises to boost productivity and address complex challenges in health or in transport security, but of course nothing comes for free. We know that the rise of AI also presents important challenges to our governments, to our societies around the world, and practically in every aspect of our lives. But let me focus on a few of them. The future work skills: that means it has to do with people, with individuals, with us, with me. And then there's some broader issues like access to data, the protection of personal privacy. That's a question of liability, of safety, of ensuring transparency and accountability. If we read the news, it looks like every day there's a new story in the news about AI and about automation. Now some of these stories are good; they tell us about the bright side. Some not so good. They tell us about the dark side, and I believe there's a genuine shared anxiety as we head into uncharted waters.
The OECD is well-placed to help governments tackle these challenges for many years. Now we have been supporting discussions on AI at the G7. For example, we've been specifically asked to support the multi-stakeholder dialogue on what we could call a human centric AI, human centric artificial intelligence. one that can promote inclusive growth. Our last October we held a major conference on AI. It was focused on "intelligent machines smart policies," and there we discussed how the speed of development of AI is bringing urgency to the policymaker's task of shaping this human centric, human centered approach, human focused approach that we're talking about. So we continue to analyze and measure this phenomenon, and we actually plan to launch an observatory on artificial intelligence policy early in 2019. Most importantly, given our convening power, we're leading a concerted multidisciplinary international effort to discuss guidelines for artificial intelligence in society. We already see valuable sets of principles on artificial intelligence emerging from different spheres of government, and here we are talking about not only different ministries, but are also talking about national governments, regional governments, state governments, and of course even cities. You're talking about business. You're talking about NGOs, and all of these together provide a fertile base from which we hope to build international consensus on these key principles for Public Policy and international cooperation on the issue of artificial intelligence.
So dear friends, ladies and gentlemen, only a few weeks ago the world lost one of its brightest minds, Stephen Hawking. When talking about the future of humanity, Professor Hawking often warned that artificial intelligence would "either be the best or the worst thing ever to happen to humanity, so there's a huge value in getting it right." I believe we all agree with Professor Hawking, and we all want to get artificial intelligence right. The OECD will continue to promote multilateral cooperation in this crucial sector to ensure we bring together the best of human intellect and make the most out of machine intelligence, and to design, develop, and deliver better artificial intelligence policies for better lives. Thank you very much.