Professor Judea Pearl has been named World Leader of 2020 by the Artificial Intelligence World Society for his watershed work on quantifying cause-and-effect relationships in statistical analysis. This is a significant leap forward because statisticians heretofore focused on correlations, and remained mute on causality as being within their analytical realm.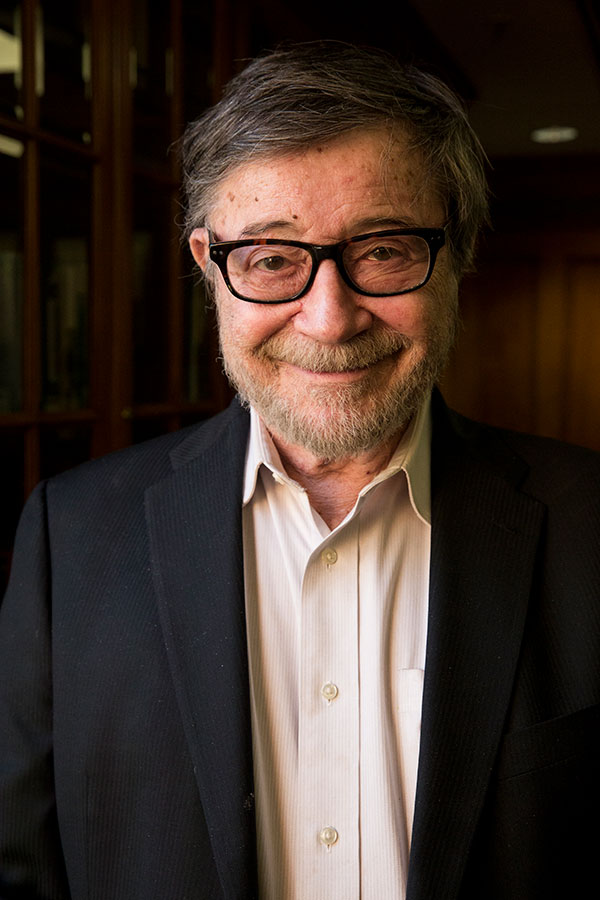 In presenting the award to Prof. Pearl, Gov. Michael J. Dukakis, Chairman of the Michael Dukakis institute, stated, "I am inspired by your watershed work in establishing cause-and-effect relationships as a statistical and mathematical concept; most especially as we strive to more completely understand the rapidly evolving impact of Artificial Intelligence and Machine Learning on society."
He went on to say, "Your latest book, "The Book of Why: The New Science of Cause and Effect," provides us with the new tools needed to navigate the uncharted waters of causality for students of statistics, economics, social sciences, mathematics and most urgently today, epidemiology." The Michael Dukakis institute, under the umbrella of its Artificial Intelligence World Society Innovation Network (AIWS-IN) AIWS.net, is calling for artificial intelligence to be developed and deployed in ways that benefit all mankind. Professor Pearl will serve as Mentor to AIWS Innovation Network programs in support of these goals.
He added, "With your remarkable achievements in mind, I am thrilled to have you accept this important honor as the: World Leader in the Artificial Intelligence World Society for 2020. To be sure, the AIWS.net is eager to explore and apply your Causal Models to the decision-making process by national governments as well as individual citizens."
In accepting the award, Prof. Pearl said, "I believe we are kindred spirits in our pursuit of a world where we all share in the concern for our fellow citizens. I also believe the Boston Global Forum; the Michael Dukakis Institute for Leadership and Innovation and the AIWS-IN are playing a vital role in helping to inspire leading thinkers and scholars from around the world."
The AIWS-IN focusses on the ethical, moral, concepts, models, and legal underpinnings of Artificial Intelligence developments at the cusp of the AI Age and plays a pivotal role in bringing together
distinguishes thinkers on the subject. Cofounder of the Michael Dukakis Institute, and AIWS-IN creator Mr. Tuan Nguyen said, "As we enter the age of Artificial Intelligence and Machine Learning we must ask: will machines that think humans, perhaps with human emotions, create a better life for us, or will AI take us to a dystopian world of economic upheaval and social unrest. Given the promise and peril of AI, we are seeking a broad base of ideas for a Social Contract for AI Age that will foster, safety, security and sustainability in the AI Age, something Professor Pearl can help us achieve."
Founded in 2012, The Boston Global Forum (BGF) is a not-for-profit think tank based in Boston, Massachusetts. Our mission is to bring together, in an open and accessible public forum, an eclectic and engaging spectrum of esteemed academic leaders, real-world experts, thought leaders, media experts and promising young leaders, who are dedicated to seeking peaceful solutions to the most contentious issues of our times.
As an offshoot of The Boston Global Forum, The Michael Dukakis Institute for Leadership and Innovation (MDI) was born in 2015 with the mission of generating ideas, creating solutions, and deploying initiatives to solve global issues, especially focused on Cybersecurity and Artificial Intelligence.
Further details are available by contacting Mr. Tuan Anh Nguyen, Cofounder and Chief Executive Officer of the Boston Global Forum, and Director of the Michael Dukakis Institute for Leadership and Innovation.
Mr. Nguyen may be reached at [email protected].