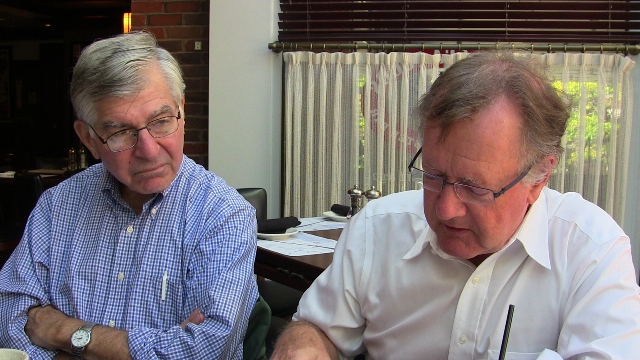 In its September monthly meeting, the Boston Global Forum looks at successful labor-rights implementation models and ways to implement these models in Bangladesh, Vietnam, and Cambodia .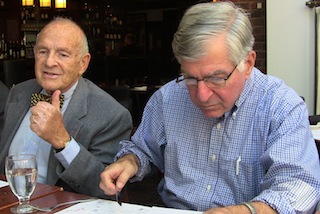 Photo: Arnold Zack (left) with Governor Michael Dukakis at the BGF meeting
The Boston Global Forum has been working feverishly to find pragmatic solutions that can ameliorate health and safety conditions of garment factory workers in Bangladesh. In order to prevent another disaster like the Rana Plaza collapse or Tazreen factory fire, we have garnered support from impassioned government and academic leaders who are committed to devoting their time, knowledge and insight to the cause. In BGF's September monthly meeting held on September 18, 2013, Governor Michael Dukakis, Arbitrator and Harvard Law School Researcher Arnold Zack, Harvard Business School Professor John Quelch and Co-Founder and Editor-in-Chief Mr Nguyen Anh Tuan met in Cambridge, Massachusetts to share proceedings from the month previous and divulge ideas to accelerate the movement.
Chaired by Governor Dukakis, BGF's monthly meeting opened with a discussion and analysis of the recent two-day conference held at New York University's Stern Center on Business and Human Rights on the future of the garment industry in Bangladesh with reference to human rights issues. Major US and European retailers, governmental organizations, Bangladeshi officials and other key players were invited to participate in the conference. In realization of the need to both organize another round-table discussion and to ensure greater participation, Mr Tuan proposed an online conference, organized by BGF, in the coming months.
In this month's meeting, the crux of the conversation was on the search for model third-world countries where international labor law standards have been successfully and sustainably demonstrated. Rising to the top was the International Labor Organization's Better Factories Cambodia program. Formerly known as the 'ILO Garment Sector Project', Better Factories Cambodia rose out of a trade agreement between the United States and Cambodia in 2001 through which the US assured Cambodia access to its markets in exchange for improved working conditions in the garment industry. The ILO works closely with the Cambodian government, the Garment Manufacturer's Association in Cambodia and international retailers to ensure safe and conducive working conditions in Cambodia.
Better Factories Cambodia employs multiple assiduous approaches to implement the highest possible safety standards in garment factories. Mr Zack said that the ILO uses a monitoring and evaluation procedure based on 500 different elements addressing fundamental issues like child labor and freedom of unions, and selective issues like over-time wages, maternity leave and protective equipment. The results then feed into extensive reports that detail levels of compliance of garment factories to these factors.
The success of Better Factories Cambodia also lies in its unique labor dispute resolution mechanism- the Arbitration Council. This national tripartite institution is made up of representatives from labor unions, the ministry and factory owners. All labor cases and conflicts are brought before the council that has developed a reputation for fairness and independence. The success of this form of mediation has made the council a model for judicial reform in Cambodia. Such is the triumph of Better Factories Cambodia that "factories from China are now relocating to Cambodia", said Zack. He adds that retailers are proud of their association with ethical working conditions, in Cambodia, and are not discouraged by being held accountable to international standards.
Despite its success, the Cambodian model has been replicated in only a handful of countries, for instance in Lesotho. Thus far, it hasn't been applied to Bangladesh. Troubled by the program's limited expansion, Governor Dukakis raised provocative questions at the BGF meeting: "Why haven't the U.S. and other interested countries been pushing it? Why aren't we and others actively advocating for it?"  Upon consequent research by the BGF team, it was discovered that the answer might lie in the understanding the transition from a global system of trade quotas called the 'Multifiber Agreement' to the WTO's quota-free trading environment.
After deliberating over ILO's Cambodian model, members of the Boston Global Forum steered the discussion towards other possible strategies to address the 'Issue of the Year'. One key approach proposed was recognizing the importance of consumer education and pressure in maintaining international standards. Another approach suggested was for BGF to focus on work place safety under the larger aegis of worker rights. Professor Quelch introduced a broad-picture paradigm to the discussion by asking whether BGF should focus on Bangladesh alone or persevere for an all-ASEAN absorption of ILO standards? In support for the Cambodian model, he also suggested that BGF should research the reasons behind the success of the Cambodian model and publish its findings online as a statement of advocacy.
In closing, Professor Quelch reminded the BGF about the need to collaborate with experts in the field by inviting their participation through written commentary and statements on the website.  He also proposed actively reaching out to Michael Posner, Labor Rights Advocate and head of the Stern Center for Business and Human Rights to demonstrate our willingness to aid his efforts on the issue.
The Boston Global Forum will work on these propositions in the coming month and will convene for another round of discussions in October 2013. If you wish to join our conversation or participate in our meetings, please send in your request to our Editor-in-Chief, Mr Nguyen Anh Tuan at [email protected]