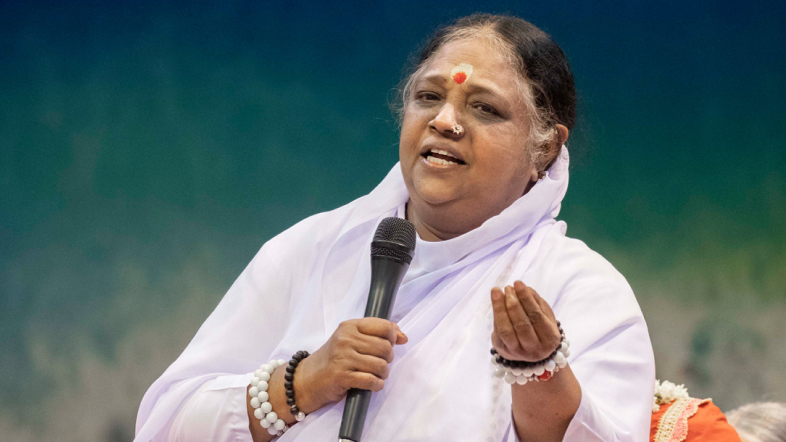 Amma's organization exists to help alleviate the burden of the poor through helping to meet each of their five basic needs—food, shelter, healthcare, education, and livelihood—wherever and whenever possible. MAM is especially focused on helping to meet these needs in the aftermath of major disasters. To date, MAM has provided free medical care to nearly six million people. It has built more than 47,000 homes for the homeless throughout India and has provided financial aid for more than one lakh people unable to care for themselves. MAM is also providing educational assistance to 50,000 students. Moreover, it is offering vocational-training, literacy-training, running orphanages, hospices, old-age homes, scholarship programs, planting trees and managing environmental-protection programs. MAM has done massive relief-and-rehabilitation work following the 2004 Indian Ocean tsunami as well as in response to flooding in Mumbai, Gujarat, Chennai and Bihar, Uttarakhand and Jammu-Kashmir, as well as in response to earthquakes in Kashmir, Nepal, Haiti and Japan, cyclones in West Bengal and the Philippines, and hurricanes in the United States
About Sri Mata Amritanandamayi Devi
Spiritual leader, humanitarian and visionary Sri Mata Amritanandamayi Devi, known throughout the world simply as "Amma," has served the world-community for decades, imparting wisdom, strength and inspiration. Accessible to one and all, she has embraced more than 40 million people and inspired a global volunteer-based humanitarian movement to help alleviate the burden of the poor and suffering. Under the auspices of the Mata Amritanandamayi Math (MAM), the organisation exists to help meet the five basic needs—food, shelter, healthcare, education, and livelihood—wherever and whenever possible. This is especially the case after natural disasters and civil conflicts. MAM also leads environmental projects such as tree planting and public clean-up drives. With volunteer groups in more than fifty countries across the world's six continents, MAM has been an NGO with Special Consultative Status to the United Nations since 2005. Due to her lifetime of experience in the successful management of humanitarian programs, when India assumed the Presidency of the G20 in 2023, Amma was made Chair of the Civil20, as which it was her responsibility to consult with other civil-society organizations and present a "policy pack" of recommended initiatives to the Prime Minister prior to the G20 meet in Delhi.