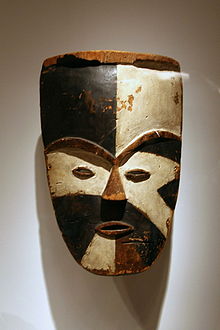 Gabonese mask.
Gabon has long had a deeply corrupt government run by the Bongo family but it has been more peaceful than most African nations. It has become very well known in the rest of the world for its gorgeous national parks designed by American landscape architect John Gwynne.
But now Gabon is also violent, as  protesters clash with police following word of disputed presidential election results.
Violence erupted Aug. 31 after Interior Minister Pacome Moubelet Boubeya announced the results of Saturday's vote, which showed that incumbent President Ali Bongo defeated opposition candidate Jean Ping by a tiny margin: Bongo had 49.8 percent of the vote, while Ping, a diplomat and former African Union official, had 48.23 percent.
The opposition asserted that the results were fraudulent and thousands of people took to the streets  in protest. The parliament and some other government buildings were set on fire  as  troops tried to restore order. Shops and businesses were looted.
Ali Bongo's re-election would extend his family's half-century rule over the oil-rich nation by another seven years. Bongo succeeded his father, Omar Bongo, in 2009.