(BGF) – The China's People Daily reported on May 13 that China denied the US Secretary John Kerry's accusation of it making provocative moves in the South China Sea during a phone conversation, and implied that Vietnam is the country taking provocative actions.
Click here to read the full story or visit People Daily website.
China denies US accusation over South China Sea
13 May, 2014 | By WangXin、Yao Chun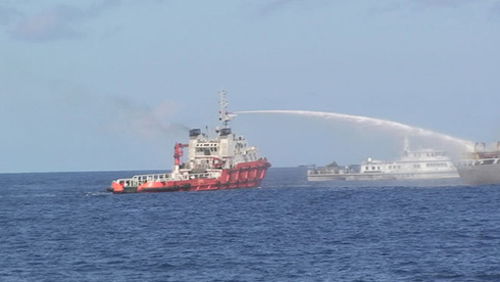 (Photo Credit: Vietnamese Department of Foreign Affairs)
BEIJING — China on Tuesday denied that U.S. Secretary of State John Kerry had accused it of making "provocative" moves in the South China Sea during a phone conversation with Chinese Foreign Minister Wang Yi.
Foreign media, including Reuters, quoted U.S. State Department spokeswoman Jen Psaki as saying Kerry told Wang over the phone that China's introduction of an oil rig and numerous government vessels in waters disputed with Vietnam was "provocative."
"In fact, U.S. Secretary of State Kerry made no such comments during the phone conversation," Chinese Foreign Ministry spokeswoman Hua Chunying told Xinhua.
According to Hua, Kerry's message during the phone talks was that the U.S. takes neither positions nor sides, and has no intention to make any judgment on the issue of territorial sovereignty.
Click here to continue reading.