On Monday, November 10, The MBTA officially renamed its South Station as "The Governor Michael Dukakis Transportation Center", despite Gov. Dukakis's opposition.
Dukakis  served as Massachusetts governor from 1975 to 1979 and from 1983 to 1991. He was the Democratic presidential nominee in 1988, losing to George H.W. Bush. He is now the Co-founder and Chairman of the Boston Global Forum.
The Boston Globe said, the change is meant to honor the three-term governor who helped save the station from demolition and served as a strong champion for mass transit.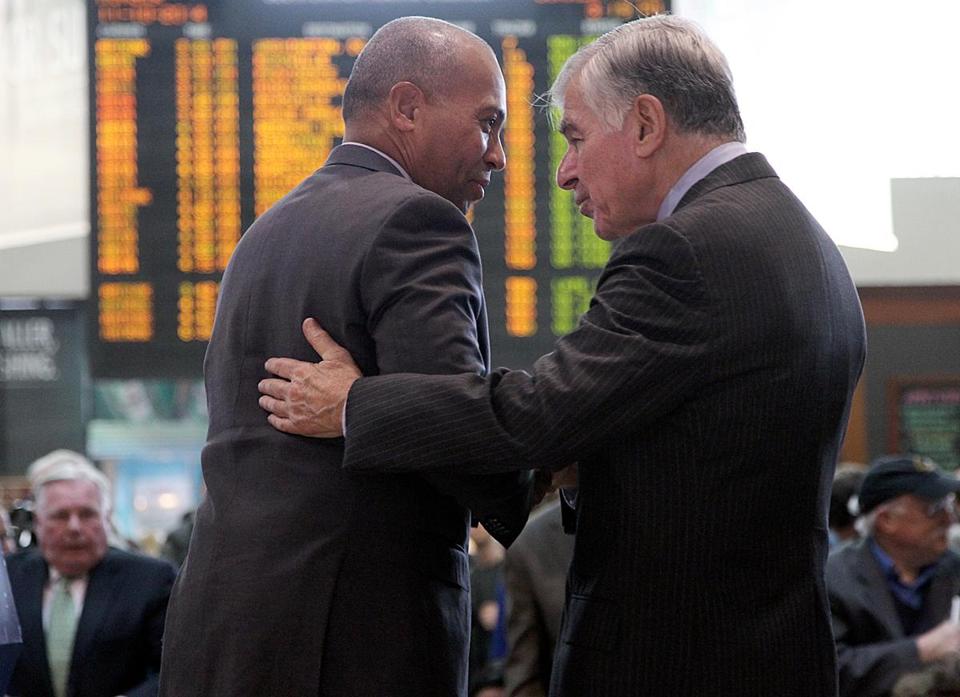 Governor Deval Patrick spoke with former governor Michael Dukakis after the ceremony. Photo credit by SUZANNE KREITER, Boston Globe
MBTA leader called it a "fitting tribute" but Gov. Dukakis said he did not approve of the renaming in the ceremony, typically naming of buildings after politicians, The Boston.com reported.
The Boston Herald.com also wrote – Gov. Dukakis was surprised when he heard the station name was changed to Michael S. Dukakis South Station Transportation Center.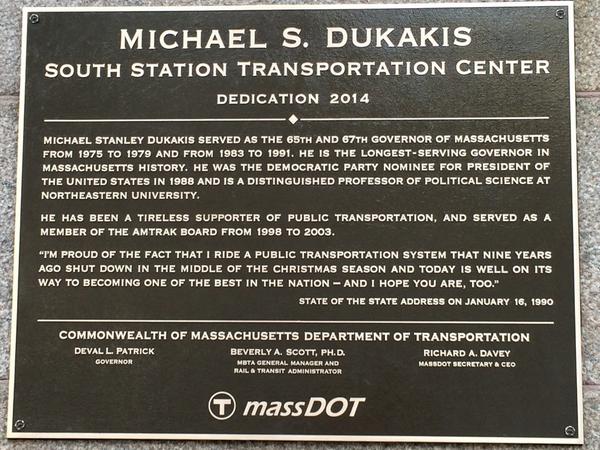 (Photo Credit: Michael Sangalang)
According to Boston NPR news station, the 90.0 WBUR, the State lawmakers voted earlier this year to rename the station in honor of Dukakis, who was known for an advocate for public transportation and was known for taking the public transit to work during his time in office.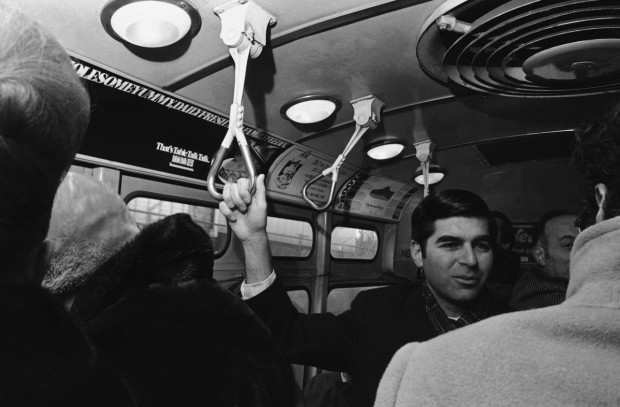 Former Massachusetts Gov. Michael Dukakis was known for taking public transit to work during his time in office. Above he talks to commuters on a streetcar from Brookline to Boston in 1975. (Photo credit: AP)