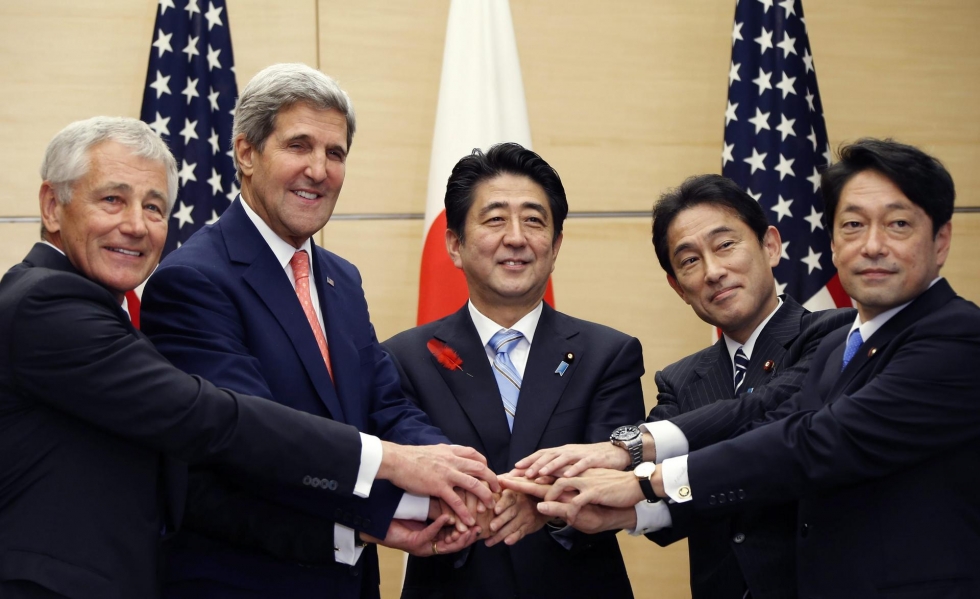 (Photo Credit: EPA)
(BGF) – This article, by Helene Cooper and Jane Perlez for The New York Times, discusses China's actions and the implications for the Obama Administration's re-balancing toward Asia. As the authors note, China's actions indicate that China is testing U.S. alliances in the region with countries such as Japan and the Philippines, perhaps in an effort to get an increasingly inward-looking United States to back-off from the territorial disputes in Asia and relinquish its position of power in the region. This would allow China to assume the position of the unchallenged power in Asia. Click here to read the full article or visit The New York Times' website.
U.S. Sway in Asia Is Imperiled as China Challenges Alliances
By Helene Cooper and Jane Perlez
SINGAPORE — The Obama administration's three-year-old plan to shift its foreign policy focus to Asia was supposed to shore up interests in a critical region, push new free trade pacts and re-establish United States influence as a balance to a growing China, after a decade of inattention.
But as Secretary of Defense Chuck Hagel visited this city-state for a security conference with all of the interested parties on Friday, that much-vaunted Asia policy appeared to be turning into more of a neighborhood street fight, with the United States having to simultaneously choose sides and try to play the role of referee.
All around Asia, China is pushing and probing at America's alliances, trying to loosen the bonds that have kept the countries close to Washington and allowed the United States to be the pre-eminent power in the region since World War II.
In just the past week, China traded punches with Vietnam and Japan. A Chinese fishing vessel rammed and sank a Vietnamese fishing boat on Monday near a Chinese deepwater oil rig that was placed in disputed waters off the coast of Vietnam. That confrontation followed a close encounter last Saturday in which two pairs of Chinese fighter jets flew close to Japanese surveillance and electronic intelligence planes, in disputed airspace claimed by both countries.
By itself, neither encounter rises to the level of the trans-Pacific standoff that occurred in the East China Sea last year after China asserted military authority over airspace that included uninhabited islands claimed by Japan.
But taken together, those episodes form a pattern of escalating maritime and air tensions in the Pacific that have frustrated and worried American officials.
In his strongest words yet on the territorial disputes, Mr. Hagel on Saturday morning implicitly accused China of "intimidation and coercion" as he delivered his keynote address to the conference. China has called the South China Sea "a sea of peace, friendship and cooperation," Mr. Hagel said. "But in recent months, China has undertaken destabilizing, unilateral actions asserting its claims in the South China Sea."
China's goal is to show Washington that if it maintains alliances in Asia, it risks a fight with Beijing, said Hugh White, a former senior Australian defense official who worked closely with Washington and is now professor of strategic studies at the Australian National University.
"China is deliberately doing these things to demonstrate the unsustainability of the American position of having a good relationship with China and maintaining its alliances in Asia, which constitute the leadership of the United States in Asia," Mr. White said.
China is betting that America, tired and looking inward, will back off, he said, eroding its traditional place of influence in Asia and enhancing China's power.
Click here to continue reading.