By Thu Cuc
The play "Blue daisies on the forest swamp" of Luu Quang Vu – a genius forecast of the emergence of AI citizens
Luu Quang Vu (1948-1988) is a prolific and remarkable writer of modern Vietnamese literature, having produced a large number of works including poetry, theatrical plays, short stories and theater criticism essays. He was posthumously awarded the Ho Chi Minh Award – the most prestigious award for artists who made exceptional contributions to Vietnam arts and literature.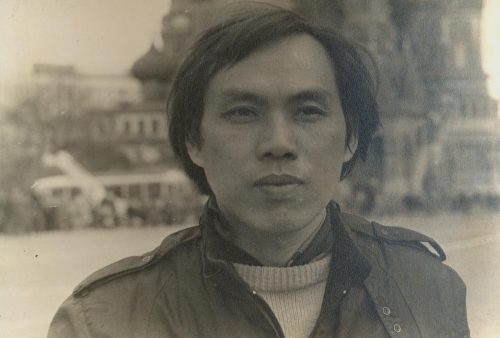 The playwright, poet and writer Luu Quang Vu
Photo: Luu Khanh Tho
His legacy includes about 200 poems, over 50 plays, and several short stories and theater criticism essays. His poetry, loved by many, is very lyrical and emotional, embedded with his thoughts and visions. His plays depict both urging contemporary topics and prolonged philosophical ideas of humanity, many of which have been praised as theatrical classics of the modern Vietnam theater. His plays had an immense impact on the contemporary Vietnamese, helping promote the government's "Renovation" (Doi Moi) economic reforms in the late 1980s, which brought Vietnam closer to the open world.
Introduction of Luu Quang Vu
Source: The Vietnam Tuoi Tre Theater
Among his plays, Blue daisies on the forest swamp is one of the most outstanding. The original script was completed in 1983 and first premiered in Hai Phong in 1986, directed by director Nguyen Dinh Nghi and performed by the Hai Phong theatrical troupe. Recently, the play has been remade by director Sy Tien and the Tuoi Tre Theater's theatrical troupe. This remake was awarded the Golden Medal in the Vietnam Professional Theater Festival in April 2018.
Blue daisies on the forest swamp was written more than 40 years ago. Even though AI technology has not been popular at that time, the play has predicted the emergence of robots – the AI citizens who are more perfect than humans, and moral and legal issues relating to robots. It also foresaw the problems caused by those who use science and technology for their selfish purposes. It raised a question: How would artificial intelligence and robots bring happiness to humanity?
Blue daisies on the forest swamp's trailer
Source: The Vietnam Tuoi Tre Theater
The play was about a love triangle story between three classmates. "Who find the blue daisies blooming in the forest swamp will get the happiness they wish for" – their hometown myth has been with the three main characters: Lien, Hoang, and Van since their childhood. They attended the same class at a little high school in a greenly beautiful valley. They used to compete with each other to cross the tangled grassland on the local forest swamp and find the blue daisies with their hope for lifelong happiness. When they grew up, they all found the jobs that they wanted. The kind Lien became a teacher, the daydreaming Van become a painter and the creative Hoang became a talented engineer with world-changing inventions. The day that Hoang came to confess his love to Lien was also the day that she and Van were about to give him their wedding invitation. Unaccepting of the abrupt truth, Hoang has invented two robots with identical appearance to Lien and Van but possessed the most idealistic and decent traits. The Lien robot is kind, girly, honest and sensitive with sparkling soul, living with just love and childhood dreams, tunneling between the past and the present. The Van robot is a talented painter with his sole passion for painting, believing in the right things, freedom, fairness and integrity. Hoang programmed Lien to only love him and Van to be his loyal, generous and tolerant friend. The Lien and Van robots were Hoang's dream of happiness. However, out of Hoang's expectations, there have been several problems caused by the robots when they got a chance to interact with the real world. Being created with many decent traits and the desired to love passionately, the Lien robot dreamed of having a lover with both perfect soul and appearance. During her time with Hoang, she soon realized his selfishness, narrow-mindedness, jealousness, dishonesty, and his habits of flattering his bosses but abusing his subordinates. All these traits, together with … his grinding teeth while he slept, completely wiped out her love for Hoang. Because of her honesty, she told Hoang her thoughts of him. Hoang became confused and disappointed, while Lien was trying to escape from him. She looked for Van and found out he was trapped in Hoang's basement, just painting and dreaming day in day out. After they escaped together, in order to find them, Hoang reported to the administration that the Lien and Van robots could threaten the society and a special committee was set up to chase them down. They faced several problems with the normal world and their identical appearance with the real Lien and Van caused many misunderstandings; their interaction with the society; the circumstances when they met the real Lien and Van; the moment of breakdown and realization when Hoang followed the robots back to their childhood valley, while they were finding the blue daisies, and witnessed their drowning into the forest swamp. After all that happened, Lien and Van understood the meaning of their love and realized that happiness came from ordinary things in life and their close ones, who they must treasure. Hoang also realized that dreams are just dreams, but dreams will ever last if people could maintain their childlike spirit and, most importantly, do not "let dreams go", "let childhood memories vanish" and let themselves drown in the swamp of bad intentions and selfishness.
The play has shown a pioneering vision, which is ahead of its time and contains numerous human values. The message embedded in Blue daisies on the forest swamp is: "Whether this is the right time to replace humans by robots? What should we do as humans to avoid become just as robots? Robot will be smarter and even more perfect than humans, then the question is how to live as one should and change our behaviors so that kindness and benevolence would be ever preserved in our society?".
The fictional vision by Luu Quang Vu has become close to reality after 40 years. The issues raised in his play are all urgent issues observed by countries and technology companies in the race of development and investment for artificial intelligence. "How to develop and utilize AI to make a better world with happiness, decency and compassion, as envisioned by the AI World Society?" is the question that we should ask ourselves – the citizens of a green planet named Earth.
Blue daisies on the forest swamp (full Play)
Source: The Vietnam Tuoi Tre Theater
AI World Society (AIWS) Cultural Value
 The AI Age will bring with it an AI Age Culture.
With this in mind, the mission of AI World Society is to bring out the best and minimize the worst traits for humanity.
 The AIWS strives to foster positive cultural values of the AI Age:
Humanity, tolerance, sincerity, integrity and honesty.
Create a life in which people can live honestly with others and themselves.
Arouse emotions of the heart, in each person, thereby, encouraging a good spiritual life, noble and beautiful soul, and human love, away from the cruelty and narrow-mindedness hidden among us.
Arouse individual responsibility so that we may develop a world in which power and money is not used to subjugate other nations and individuals.
Those with good and noble intentions, such as intellectuals, creators and volunteers who contribute their time, effort, and dedication to society will always have a good material life.
There will be equal opportunities for access to information and knowledge for every citizen, and equal opportunities to dedicate, contribute and maximize the contributions of each citizen.
The human evaluation scales are creative intelligence, humanity, dedication, and contribution to society.
Respect all life on the earth, especially AI citizens as good friends and powerful assistants, considering AI as a part of the life, intelligence and soul of humanity.
Respect and honor the highest values of human beings: creation, creativity, tectonics, invention, noble hearts and a willingness to live wholeheartedly for the people. For the community the values are charity and benevolence as well as dedicating intelligence, time, effort, and wealth, to contribute to a prosperous, loving and civilized society.
Appreciate the creativity of AI citizens in all areas, in accordance with AIWS principles, charters and ethical standards.
Encourage and respect policies, laws, conventions, solutions, initiatives, and cultural and artistic works that can turn the values of the AIWS into a reality where the majority of citizens and governments accept the AIWS 7-Layer Model Standards.