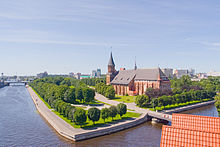 In Kaliningrad.
Here's a look at how the geography and tangled history of the Baltic region make everyone nervous as a more aggressive  Russia probes NATO defenses in the region.
Kaliningrad, a key Russian naval hub and leftover from World War II,  is at the epicenter of tensions.
To read a Washington Post article on this, please hit this link.