On May 18, President of The World Leadership Alliance-Club de Madrid Vaira Vike-Freiberga welcomed and discussed with Mr. Nguyen Anh Tuan, CEO of BGF and Director of MDI. BGF and MDI will partner with Club de Madrid in building the Next Democracy Generation by using AI and AIWS models. President Vaira Vike-Freiberga has invited Mr. Nguyen Anh Tuan to join The Riga Conference 2018, which will take place on September 28 – 29, 2018.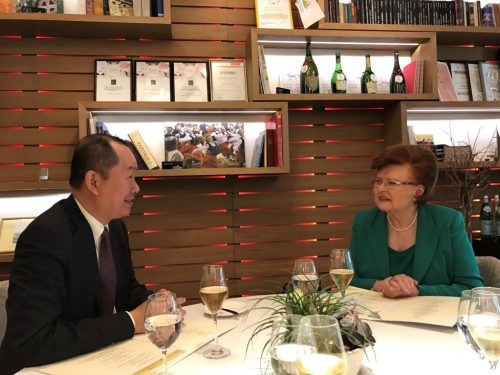 Organized jointly by The Latvian Transatlantic Organization, The Latvian Ministry of Defense, and The Latvian Ministry of Foreign Affairs, The Riga Conference has become a unique venue for constructive dialogue on international security issues between leading global decision makers.
At this year's conference, amongst other things, they will consider the EU's role in the rise of geo-economics, security challenges in the information age and hybrid warfare, transatlantic relationship as a critical axis of global stability, relations between Russia and the West as well as prospects of Eastern Partnership countries. Dozens of distinguished leaders and experts will present their opinions on the most pressing issues in foreign policy and defense of the Baltic Sea region and beyond.
Convening in the Latvian capital since 2006 by President Vaira Vike-Freiberga, the conference has become a recognized annual tradition across the region. Many heads of state have joined the conference such as President George W. Bush, Georgian President Mikheil Saakashvili, etc.