Last week, the Indian Prime Minister Narendra Modi paid a visit to Japan and met the Japanese Prime Minister Shinzo Abe at the India-Japan Annual Summit. The meeting brought about the collaboration in the effort of the technology's innovation between the two countries.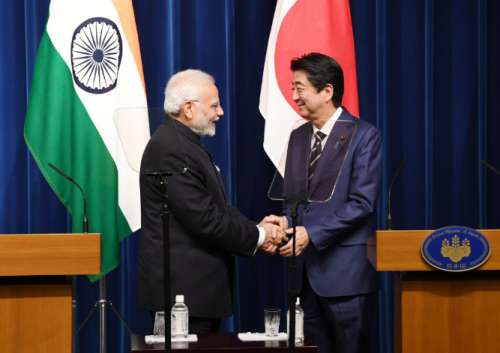 Realizing the great potential of cooperation between the two nations, with Japan's strength in hardware and India's prowess in software, the two ministers shared a same goal for the future. Prime Minister Shinzo Abe, who was honored as the World Leader in Cybersecurity in 2015 by Boston Global Forum, signed the agreement with Prime Minister Narendra Modi. This agreement established a Japanese-Indian Digital Partnership with the aim to utilize the Start-up Hub in Bengaluru and IT Corridor Project in Hiroshima Prefecture. It might be the first step in the development of Internet of Things and AI solutions promoting the society.
The agreement included of these following terms:
Implementing arrangement for deeper cooperation between Japan Maritime Self-Defense Force and Indian Navy;
MoC between Ministry of Electronics and Information Technology and Ministry of Economy, Trade and Industry on Japan-India Digital Partnership;
Statement of Intent between NITI Aayog and Ministry of Economy, Trade & Industry (METI), Japan on AI to encourage and develop cooperation on AI-based technologies;
Memorandum of Understanding on further cooperation toward Indo-Japan Global Startup between Nagasaki University and IIITDM Kancheepuram;
MoU on the academic and educational exchange between Indian Institute of Technology Hyderabad and Hiroshima University.