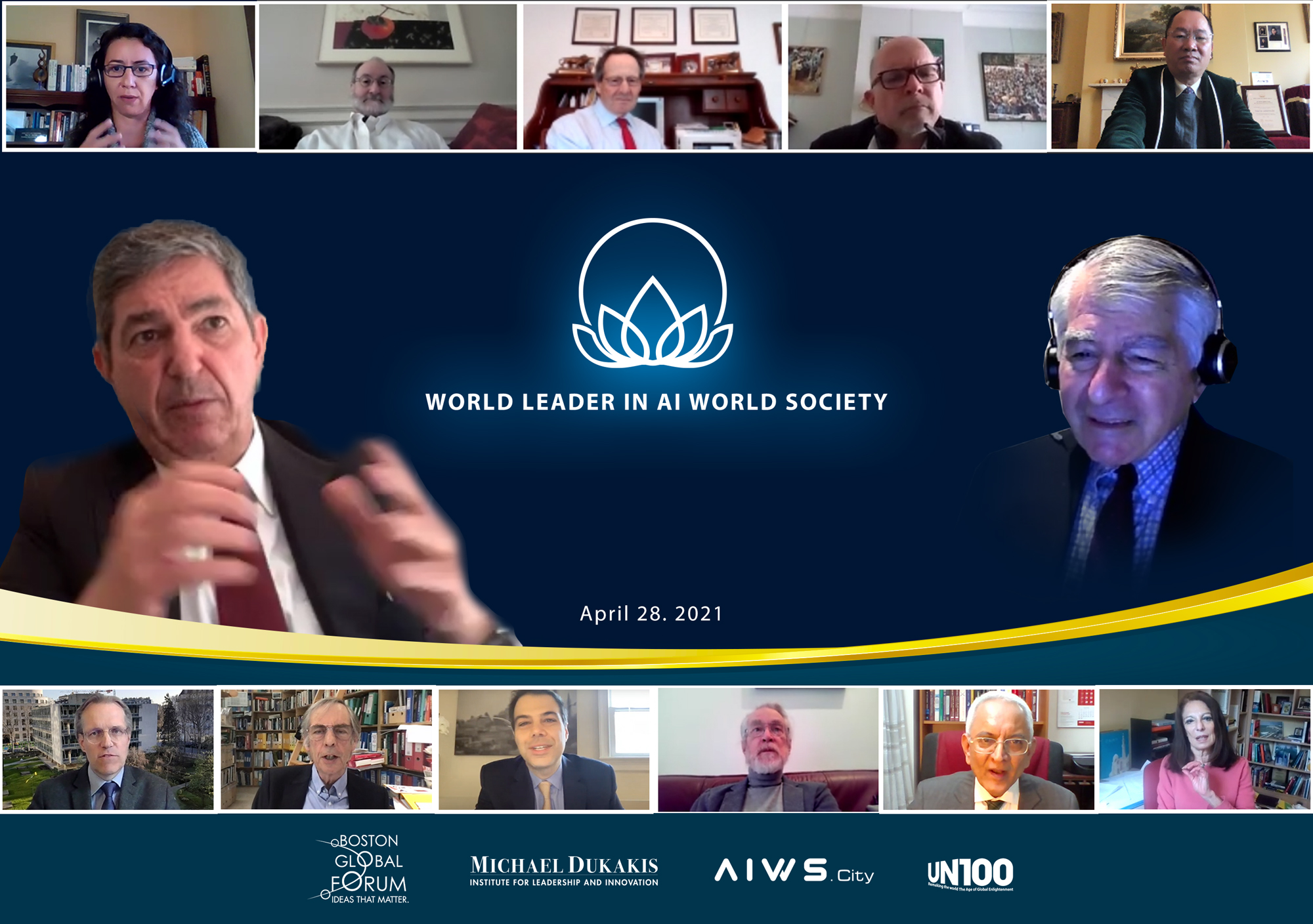 On April 28, 2021, Boston Global Forum hosted the AIWS Award and AI International Accord Roundtable where Ambassador Stavros Lambrinidis was awarded the 2021 World Leader in AI World Society (AIWS) and joined with fellow leaders in innovation to discuss the future of AI as we emerge into the Age of Digital and AI. This roundtable follows after Governor Michael Dukakis' call in 2018 for an international accord on Artificial Intelligence in 2018.
Chaired by Governor Michael Dukakis, Co-Founder and Chairman of the Boston Global Forum, and Nguyen Anh Tuan, CEO of the Boston Global Forum, this discussion addressed the relevance of AI in world society as it impacts our fundamental human rights today. With the increasing adoption of AI globally, our rights to privacy, dignity, and freedom are all at stake.
Our speakers brought notable dialogue to the discussions:
Ambassador Stavros Lambrinidis: "It is our aspiration to create machine that are able to do more and more of our own thinking, selections and decision making. And if that's our aspiration, we must also take care to ensure that those machines do not make the same mistakes that we humans have been prone to make".
Ambassador Stavros Lambrinidis raised that "Exploring a social contract for the AI Age, a Framework to ensure an AI 'Bill of Rights' in the digital age, is fundamental in international relations today. And in this work, our relationship with the United States is paramount."
Nazli Choucri presented the Framework for AI International Accord: "As we move on, it's our responsibility to leave some kind of regulatory framework before the younger generation that has not had the cold war experience, the World War I, the World War II, etc. experience. If we can just organize for them a framing of discourse, it would be a major contribution. That would be considered our generation's contribution."
P.S. Raghavan stated that Framework for AI International Accord was: "An excellent comprehensive paper which captures the intricacies of the issues and also the breath of the challenges"
Magnus Magnusson: "Diversity must be integrated in every single step of the AI lifecycle; from creation of algorithms to the collection of data, down to the numerous applications of AI in every aspect in today's society: healthcare, education, transportation and so forth. This is the only way to ensure all voices will contribute to the development towards policies and frameworks for AI"
Paul Nemitz: "We should be ambitious in our work and see in terms of what we aim for."
Conversations expressed the need for an AI International Accords to support this new reality of AI as well as facilitate international cooperation regarding this innovative development.
Speakers in the talks included:
Ambassador Stavros Lambrinidis, Ambassador of the European Union to the United States
Stratos Efthymiou, Consul General of Greece in Boston
Ambassador P.S Raghavan, Former Chairman of the National Security Advisory Board, India
Nazli Choucri, Professor at MIT, AIWS City's Board of Leaders
Magnus Magnusson, UNESCO Director for Partnerships and Outreach
Paul Nemitz, Principal Advisor of European Commission
The AIWS Award and AI International Accord Roundtable provided great insight into AI governance and discussions will be considered in further conversations on the AI International Accords, which is part of AI World Society (AIWS). AIWS is a doctrine and model for remaking the world towards the Age of Global Enlightenment.