The Rana plaza collapse in Bangladesh has raised a critical call for improvement of working conditions in developing countries. Inspired by this incident, Boston Global Forum directors decided to choose its mission of the year 2013 as "Minimal standards for Worker safety". The issue has gathered several concerns from political leaders and renowned professors at Harvard and MIT.
Mr Vu Dang Vinh, CEO of Vietnam Report also has shown his concern and expressed support for the issue.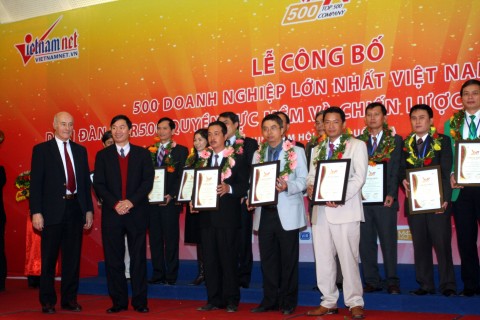 Photo: Professor Joseph Nye presented awards to Top Vietnam largest companies in VNR500 in 2010.
"Boston Global Forum has raised an important issue of worker safety which is still an absence in many international conversation. Professor John A. Quelch has proposed very interesting questions for discussion of "Minimal Standards for Worker Safety" with very unique perspective.
Vietnam Report, Vietnam Economic Forum (VEF) and VNR500 (Vietnam Top 500 largest company ranking) highly appreciate that Boston Global Forum has raised this issue as it core mission of 2013.
The proposal of "Minimal standards for worker safety" issue is indispensable for the year of 2013. Boston Global Forum should be the one who forms these safety standards and makes it become reality in every organizations, and every countries. These standards not only will bring good things to the workers, but also create a fair competition between countries and between organizations.
We believe that by gathering opinions and suggestions of experts in area of worker safety, political leaders, and distinguished professors, Boston Global Forum will be able to form the best standards for the problem, which will be the guidance for all countries and organizations.
The U.S. government, the United Nations should lead and set up requirements to deploy the standards outlined by Boston Global Forum. All big brands of the U.S should be the pioneer in applying the standards. Based on these BFG's standards, US government should promulgate and enforce standards for textiles industry as the same as it did to agricultural products and foodstuffs (FDA). If these commodities do not pass standards, they will not be imported into the US market.
Vietnam Report will raise this issue in its upcoming Vietnam CEO Summit 2013 conference on August 23 in Ho Chi Minh City and will mobilize all organizations, especially Vietnam textile companies to support and apply these standards."
 About Vietnam Report
Vietnam Report Joint Stock Company is the pioneer and leader in areas of report, ranking for business organizations, products and services in Viet Nam. It business focused on  providing consultant services, and data for marketing, investment and market research in Viet Nam. Its renowned products and services include VNR500 (Vietnam's Top 500 largest companies), FAST500 (Vietnam's Top fastest growth companies), V1000 (Vietnam's Top 1000 income tax-paid companies).