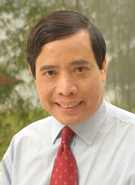 Dr. Vu Minh Khuong, Assistant Professor, Lee Kuan Yew School of Public Policy, National University of Singapore has sent BGF his comments and question as following:
Comment: "React" or "reform" is an important indicator when one assesses how far a nation can go in turning a severe disaster such as the Rana Plaza factory collapse into a powerful driver for change and transformation. While the "react" approach may lead to some punishment, review, and revision, its effects are not fundamental and lasting.
In contrast, the "reform" approach foster all the stakeholders, including governments, businesses, workers unions, workers, and MNCs to work together to forge out a strategy that will enable Bangladesh to become a competitive place for garment industry, not only in labor costs but also in working conditions. This strategy should address the fundamentals and particularly emphasize the efforts to benchmark Bangladesh against the comparable countries in Asia (such as Sri Lanka, Vietnam, and China) and to learn from world best practices.
Question: In your observations, the efforts made by the Bangladeshi government, the Bangladeshi garment industry, and MNCs have likely followed which approach, "react" or "reform"?