In response to the worst factory disaster in Bangladesh's history, the country will start surveys of over 2000 factories on September 15, 2013. The Daily Star has the story.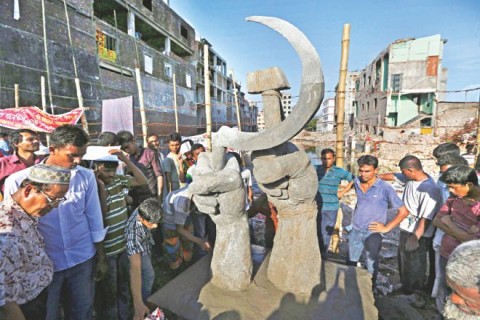 Factory Survey Starts on September 15
Thirty expert panels led by Bangladesh University of Engineering and Technology will start inspection of garment factories from September 15 to check structural flaws and ensure worker safety, a government official said yesterday.
The teams will inspect around 2,000 garment factory buildings in three months under a tripartite agreement between the government, trade unions and the International Labour Organisation, Labour and Employment Secretary Mikail Shipar said.
The inspection teams have already been formed with experts from other universities, the ILO, donor agencies, trade unions, Bangladesh Employers' Federation, Bangladesh Garment Manufacturers and Exporters Association, and Bangladesh Knitwear Manufacturers and Exporters Association.
The tripartite agreement was signed in two phases on February 20 and July 25 after two deadly factory accidents — Tazreen Fashions fire on November 24 last year and Rana Plaza collapse on April 24.
"We will inspect the buildings, which were not included on the lists of IndustriALL and North American Alliance, to avoid repetition," Shipar said. IndustriALL — a global trade union, and North American Alliance — a platform of 20 US-based retailers and brands for worker safety in Bangladesh, will separately inspect 800 and 1,200 factories. IndustriALL will inspect the factories under an accord signed by 85 retailers and brands, mostly European.
However, Shipar could not say when IndustriALL and North American Alliance will start the inspection. Buet will train the inspection teams from August 28, the secretary said, adding: "We will also prepare a checklist and a guideline for factory inspection on September 7."
The labour and employment ministry has already recruited four inspectors and will appoint 72 more by October, Shipar said.
A process is underway to appoint 128 inspectors in November, he added.
Sekender Ali, a professor at Buet, said more than 200 factories will not come under the tripartite inspection as those have already been visited by experts after the Rana Plaza collapse. However, Ali is unsure whether these 200 factories will be inspected by IndustriALL and the North American Alliance.
Roy Ramesh Chandra, general secretary of IndustriALL Bangladesh Council, said they received 57 applications for the post of chief executive officer to conduct the inspection.
"We will appoint both global and local CEOs soon to start our function," he said.
IndustriALL will open an office in Dhaka and the 85 retailers and brands will pay $12.5 million each in the next five years for the inspection and as compensation to workers. The North American Alliance has already appointed former US under-secretary of state Ellen Tauscher as the independent chair of its board of directors to start the inspection.