Even though safety standards have improved somewhat, Bangladeshi factory workers are still being abused due to wage and overtime violations carried out by their supervisors. Unfortunately, this situation is caused by the flawed monitoring activities by big brand names, including the Gap Inc. VF Corp., which owns The North Face, Wrangler and Nautica, and PVH Corp., which owns Tommy Hilfiger. Clearly, these multinationals need to step up their monitoring efforts as they recently all made pledges to crack down on poor working conditions in their subcontractors' factories.
Shelly Banjo of the Wall Street Journal has the story.
DHAKA, Bangladesh—Next Collections Ltd., one of more than two dozen factories owned by one of Bangladesh's largest garment producers, tells buyers its workday runs from 8 a.m. to 6 p.m.
On a recent Saturday night, however, bright fluorescent lights flickered well past 10 p.m. as workers inside furiously stitched children's skinny jeans bound for Gap Inc.'s Old Navy stores.
The company regularly keeps many of its 4,500 workers late—sometimes until 5 a.m.—to meet production targets set by retailers like Gap, VF Corp. and Tommy Hilfiger parent PVH Corp.  The workers themselves sometimes welcome the extra pay, but the practice apparently conflicts with the retailers' stated policies and a Bangladeshi law that prohibits more than 10 hours of work a day, including two hours of overtime.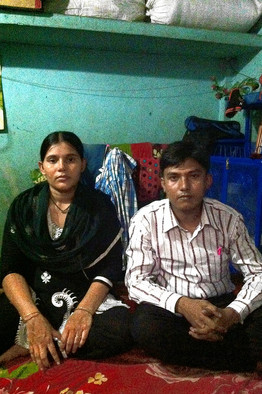 Photo: Shelly Banjo/The Wall Street Journal
Mohammad Mazharul Islam, a former worker at the Next Collections factory, where he alleges he was beaten.
The late hours at the Next Collections factory show the challenge retailers face in trying to police supply chains that can run to hundreds of factories in several countries. It also makes clear that recent pledges by retailers to crack down on poor working conditions in the wake of multiple deadly disasters in Bangladesh's textile industry won't amount to much without careful follow-up to monitor compliance.
Ha-Meem Group, which owns Next Collections, didn't respond to repeated requests for comment. In an interview with The Wall Street Journal earlier this year, owner A.K. Azad said the company is eager to keep its workers happy.
Next Collections' gray concrete compound, located along a dirt road in the congested outskirts of the Bangladeshi capital, keeps two sets of records and pay slips, according to interviews with nearly a dozen current and former workers and managers, and supported by pay documents reviewed by the Journal and a current manager at the factory group.
"It is easy, because auditors and buyers never come around late at night to check these things," the current factory manager said in an interview. "Sometimes, it is the only way to meet the orders on time."
From June through September, one set of computer-generated pay slips provided to buyers and reviewed by the Journal depicts a 48-hour workweek with no more than 12 hours of overtime. Another set of handwritten documents, confirmed by the current manager, outlines which workers received dinner stipends worth about 40 cents for working past 1 a.m. That set of documents appears to show that many employees were in fact routinely working more than 100 hours a week.
Next Collections keeps two sets of books on workers. The handwritten one logs late hours for worker 43012, not shown on the pay stub.
Many of the factory records were provided to the Journal by the Institute for Global Labour and Human Rights, a workers' rights nonprofit based in Pittsburgh. Order and production records as well as clothing labels reviewed by the Journal show that the factory recently fulfilled orders for Gap, VF and PVH. Some of the workers interviewed for this article were referred to the Journal by the institute.
VF, whose brands include The North Face, Wrangler and Nautica, has decided to stop placing work with Next Collections after finding repeated violations of its standards on wages and hours worked, according to spokeswoman Carole Crosslin. She said VF will still place orders with other Ha-Meem Group factories.
A VF compliance officer found some of the violations during an audit in January. A review in March showed the factory had made progress, but the company pulled out after another check on Sept. 23 showed the problems had returned, according to Ms. Crosslin.
"Based on our audits of Next Collections and the unwillingness of the factory's management to fully partner with us to meet and sustain compliance with our standards, we are planning to exit the facility," Ms. Crosslin said.
At the Next Collections factory, lit up in the far background, garment workers are sometimes kept until 5 a.m.
Gap said it launched an investigation into possible violations of its standards in response to inquiries by the Journal last week. It has interviewed 50 current workers and management but has yet to reach a conclusion.
"Our contracts require that factory management pay overtime and abide by all local labor laws and industry standards," spokeswoman Debbie Mesloh said. "Should these allegations prove to be true, Gap Inc. will take action, up to and including terminating its business relationship."
A spokesman for PVH said the company's records show it hasn't produced at the facility since early 2011 but that it would continue to look into possible unauthorized production, such as work that is subcontracted to the factory without PVH's knowledge.
PVH, based in New York, has signed on to an accord led primarily by European companies that sets legally binding rules for safety improvements at Bangladeshi factories funded by retailers and apparel companies. Gap and VF have joined a separate pact led by American companies that isn't binding and will help finance improvements that will be paid for by the factory owners. Both accords set up inspection regimes that are aimed at weeding out unsafe factories.
Labor groups and safety experts say fair treatment of workers and the sorts of practices that make factories less disaster prone go hand in hand. In many deadly incidents, workers have noticed problems but were ignored by managers focused on meeting orders.
That includes the Rana Plaza garment factory, where workers were alarmed by new cracks in the building but were forced to go back to work. The collapse of the building in April killed more than 1,100 people. The incident and a series of deadly fires that have killed hundreds more have focused international attention on safety conditions in Bangladesh.
Conditions at factories like Next Collections show that even if factories add fireproof doors and shore up cracks, the economics of a garment business that awards short-term contracts to the lowest bidders means factories still face pressure to violate wage and hour policies to compete, according to Charles Kernaghan, director of Institute for Global Labour and Human Rights.
Abundant workers who are among the lowest paid in the world have helped make Bangladesh one of the largest exporters of clothing for Western consumers hooked on cheap goods. The country's minimum monthly wage stands at 3,000 taka, or about $40. Workers have held protests across the country in an effort to raise it to about $100.
Ha-Meem Group is a big player in the industry. The group of factories is run by Mr. Azad, the former president of the Federation of Bangladesh Chambers of Commerce and Industry and the owner of a prominent Bangladeshi television station and newspaper.
Next Collections began production in 2011 to absorb orders after a fire damaged another Ha-Meem Group factory nearby. The 2010 fire at That's It Sportswear—which was producing clothes for the Gap, PVH and J.C. Penney Co. —killed at least 27 workers and injured 100 others.
Following a public outcry, Gap, PVH and Penney sent a letter asking Mr. Azad and Ha-Meem Group to improve safety at their factories. Gap stayed with Ha-Meem Group as the textile conglomerate made improvements to its buildings and strengthened its fire safety protocols.
In the interview earlier this year with the Journal, Mr. Azad said his company was working hard to upgrade factories, especially given safety concerns following the Rana Plaza disaster. He said the company had set up an internal committee to study improvements and planned to add sprinkler systems, among other steps.
"Customers are very concerned," he said. If there is another major factory disaster in the country, he said, "Bangladesh will be history for garments."
Workers and managers at the Next Collections facility say they feel the building is safe. Workers say they are comfortable navigating escape routes and handling equipment in case of a fire. Doors are typically unlocked, and regular fire safety drills are conducted, they said.
Still, current and former workers at Next Collections allege that hours are long and that managers shortchange their wages, force resignations from pregnant staff, deny workers maternity and holiday benefits, and physically abuse and verbally harass employees who are found to be trying to form a labor union.
In one case, former worker Mohammad Mazharul Islam said the factory's managing director beat him with a stick so forcefully that he spent four nights in a nearby hospital, according to his accounts and hospital records reviewed by the Journal. The 25-year-old has since started another job at a garment factory nearby.
Commitments to improve such conditions can be hard to verify.
"None of the buyers can understand what goes on when they are not there," said Azim Sheikh, a 26-year-old ironer at the factory who says he makes about $56 a month.