Story sourced from Bloomberg News.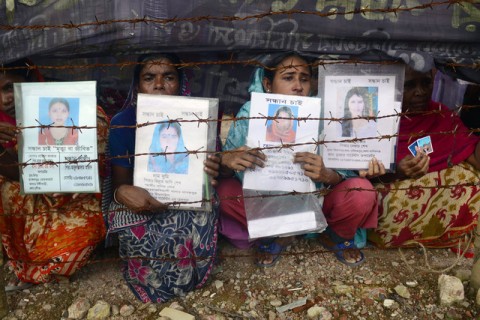 A meeting to determine compensation for victims of two factory disasters in Bangladesh was postponed until September after a union official fell ill, workers threatened to strike in Dhaka and European brands balked at attending over the summer.
"We thought it was a better solution to do this in Europe in September," IndustriALL General Secretary Jyrki Raina, who is organizing the meeting, said by phone. "The problem is Rana Plaza workers and families aren't receiving money, so it's not as it should be." The initial meeting to aid victims of the Rana Plaza collapse and Tazreen factory fire was planned for Aug. 11 and 12 in Dhaka.
The union and the Clean Clothes campaign want retailers including Benetton Group SA, Mango and Wal-Mart Stores Inc. (WMT) to agree to a lump sum payment for pain and suffering as well as lost earnings for the victims and dependents of those involved in the disasters. IndustriALL estimates the long-term compensation cost will be $71 million for the Rana Plaza collapse, where 1,131 people were killed in the nation's worst industrial accident, and $5.7 million for the Tazreen garment factory fire, which killed 112.
Clothing bound for Wal-Mart was found in the charred ruins of Tazreen, and documents provided by the Worker Rights Consortium, a Washington-based labor-rights monitoring group, show that merchandise bound for Wal-Mart was produced at Ether Tex Ltd.'s factory in Rana Plaza. Still, Kevin Gardner, a Wal-Mart spokesman, said the company's own investigation showed "no evidence of authorized or unauthorized production at the time of the tragedy" at Rana Plaza.
Primark Agreement
Wal-Mart has declined to compensate victims of the factory fire and did not join a fire and building safety pact supported by labor groups and signed by more than 80 companies this year, according to a July statement from IndustriALL.
Associated British Food Plc's Primark chain, which used a supplier in Rana Plaza, has agreed to pay compensation to survivors and dependents. It's the only retailer to do so for Rana Plaza, in accordance with existing frameworks established after the Spectrum factory fire in 2005, according to the Clean Clothes campaign, which is working with IndustriALL on the meeting.
Some European brands including C&A Group, Tengelmann Group's Kik and El Corte Ingles SA agreed to pay compensation for the Tazreen fire in April, though that process stalled due to the Rana Plaza collapse, Raina said.
Representatives for the brands sourcing that received goods from those two factories, who had been invited to attend the IndustriALL meeting, will receive an invitation for the re-scheduled September event, including Walt Disney Co. (DIS) and Li & Fung Ltd. (494)
To contact the reporter on this story: Sarah Shannon in London at [email protected]