What has happened since over 1,100 garment workers, mostly poor women, were killed in last month's Bangladesh building collapse? Attempts are underway to better regulate the 5,000 garment factories in Bangladesh (second only to China) which collectively generate $18 plus billion in annual revenues. Bangladesh garment exports tripled between 2005 and 2010 and are expected to triple again by 2020, thanks to wages well below China and Vietnam. The minimum wage in Bangladesh was one-fifth that of China.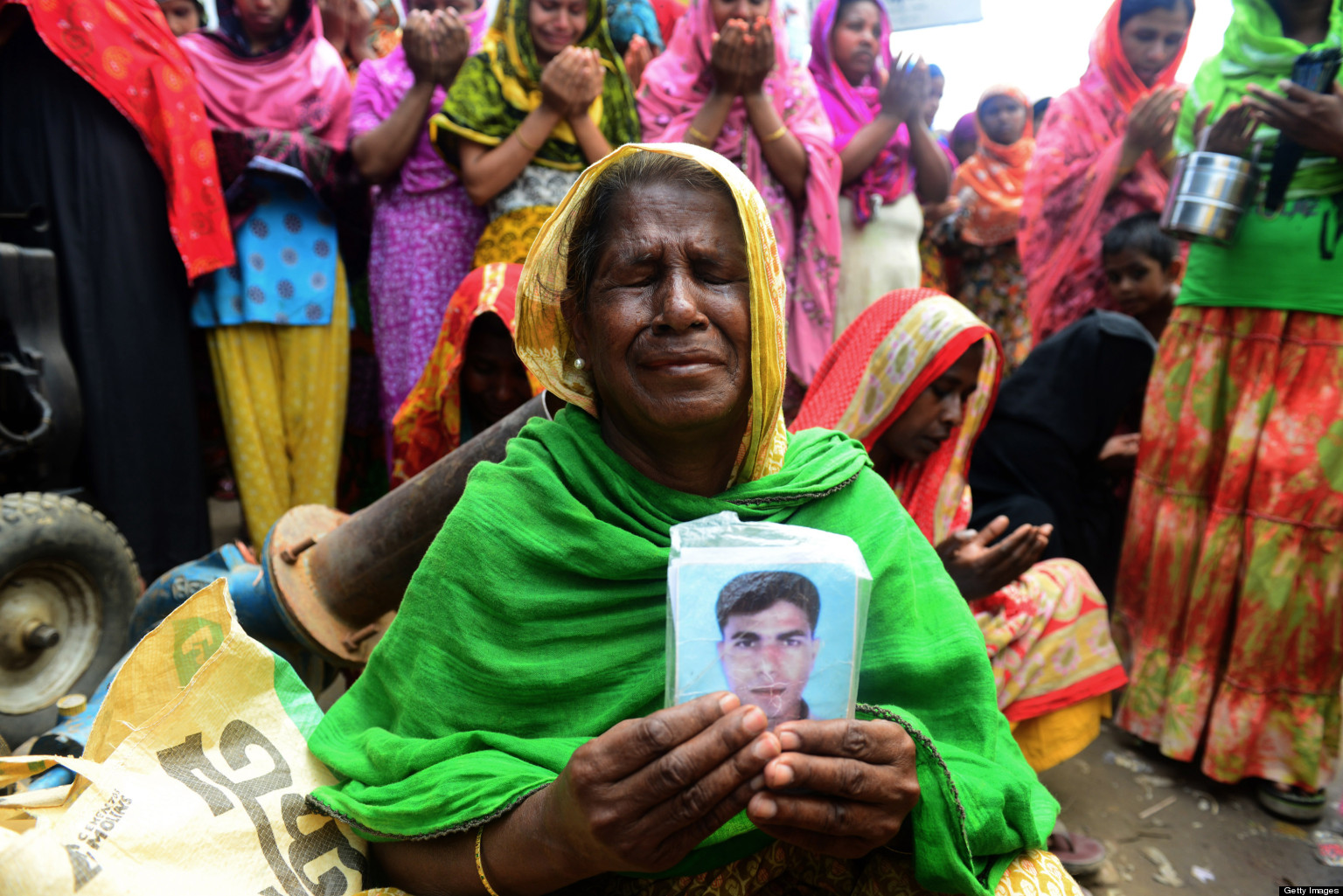 (Photo by Huffington Post)
1.The Bangladesh government initially refused offers of assistance from foreign governments and the UN. agreed to international labor organization proposals that would make it easier for garment workers to unionize. The minimum wage for garment workers  was also increased.
2. A five year Accord on Fire Building and Safety in Bangladesh was announced by major European retailers following negotiations with labor unions in Bangladesh. Purchases by these retailers – from Benetton and Carrefour  to Marks & Spencer and H&M, the largest garment manufacturer in Bangladesh  – cover roughly 1,000 factories. The signatories would pay for inspections and required renovations at factories over two years, with the cost to each retailer based on its share of each factory's production. The cost to each company was estimated at $2.5 million over five years.
3. Walt Disney announced that it would stop production in Bangladesh. US retailers including The Gap have stopped short of signing the Accord because legally binding clauses might result in lawsuits in US courts.
4. Wal-Mart revoked authorization for over 250 factories making its garments. The company will hire an outside auditor to inspect 279 factories for building safety risk. Required renovations, once completed, will qualify a factory to be on Wal-Mart's approved list. Wal-Mart also announced a hotline for garment workers to report hazardous conditions. Fire safety training for workers in all factories making Wal-Mart products in Bangladesh was also announced.
5. the Clean Clothes Campaign, based in the Netherlands, is pressing Western multinational apparel retailers to donate over 470 million to compensate the disaster victims.
Questions:
What more should foreign governments do? Garment production in Bangladesh boomed after the European Union allowed poor countries to export garments duty-free that were made of imported rather than just locally-produced fabric . Should such rule changes be phased in gradually?
Are the multinational garment retailers doing enough to make amends? What more should they do?
What about other multinationals making toys and other products in Bangladesh? Should they get on board, as 90% of Bangladeshi buildings are said to meet no building codes?
Should the ILO, European Union and/or US government lead the development of international standards that require all exported goods that enter the world trading system to be made in factories that meet minimal standards for worker safety…with fines for companies that sell non-compliant merchandise?
If you were the Bangladeshi prime minister, what would you do? What level of "outside" involvement would you welcome or reject?
_________________________________________
Professor John A. Quelch, Co-Founder, and Member of Board of Directors, Board of Thinkers, Boston Global Forum.