( May 2nd, 2016) Interior Minister Jan Jambon arrived for a meeting between the prime minister, a delegation of the victims of the Brussels attacks and the organizers of a march against terrorism and hate in the Brussels city center Sunday.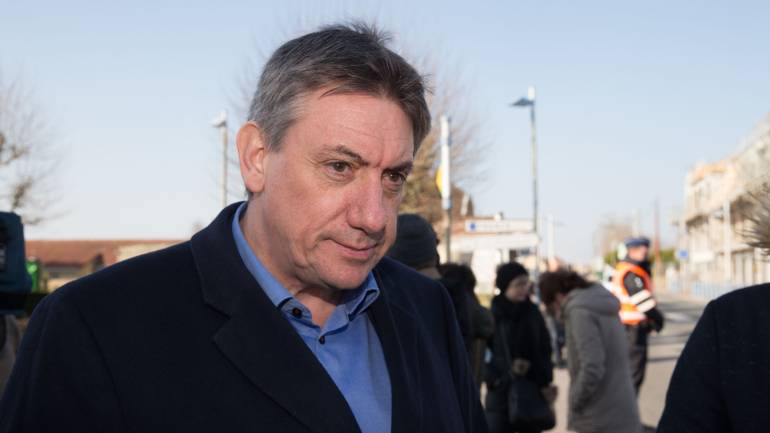 "A significant part of the Muslim community danced in response to the attacks."
That statement, made by Belgian Interior Minister Jan Jambon in an interview with Flemish daily De Standaard published Saturday, may sound familiar to American readers. It closely echoes a claim made repeatedly by Republican frontrunner Donald Trump that "thousands of people were cheering" in Jersey City, N.J., when the World Trade Center towers fell on Sept. 11, 2001.
And just like Mr. Trump's claim – which has been denied vehemently by U.S. authorities — Mr. Jambon's comments, which refer to the deadly bombings at Brussels Airport and a subway station on March 22, have prompted political pushback, as well as an examination of whether they are true.
So what did Mr. Jambon, a member of the right-wing Flemish nationalist N-VA party, actually say?
In the interview, Mr. Jambon was asked whether Belgium, as a society, had to take responsibility for the attacks. After explaining that there were some oversights in the years leading up to the attacks, the minister launched into the following:
"A significant part of the Muslim community danced in response to the attacks. They threw stones and bottles at police and the press during the arrest of Salah Abdeslam (a suspected participant in the Nov. 13 attacks in Paris). That's the real problem. We can apprehend terrorists, extract them from society. But they are merely a pimple. Underneath, there is a cancer that is much harder to treat. We can do it. But not overnight. And those involved in politics will have to transcend themselves."
A few bottles and some other objects were indeed thrown at police in the hours after Mr. Abdeslam's arrest on March 18 in the Brussels district of Molenbeek, as witnessed by this reporter. But those incidents appeared to be mostly spontaneous and random — following an hourslong siege of several residential blocks by riot police a neighborhood that has long had difficult relations with law enforcement — rather than part of a unified reaction to the arrest.
Was the reaction to the March 22 bombings, which killed at least 32 people, including a Muslim mother of three from Molenbeek, any broader?
Charles Michel, Belgium's prime minister, said Sunday that "there were expressions of support for the authors of the attacks." Mr. Michel told state-run news agency Belga that those incidents had been reported to the national security council, which includes key ministers including Mr. Jambon as well as OCAM, Belgium's coordination agency for threat analysis.
However, the prime minister also played down their significance. "These were acts coming from people who were in the minority and it isn't appropriate to make generalizations," he said.
The Brussels' prosecutor's office, under whose jurisdiction any post-attack dance parties would fall, said it is aware of just one incident, in which no one was charged. Six people were arrested on Avenue de Versailles, a street that has been linked to one of the alleged Paris attackers, following reports of a support demonstration.
However, the six people were later released, since "we don't have enough elements to prove that they were involved in such an incident," said spokeswoman Ine Van Wymersch.
In comments to Belgian media Monday, Mr. Jambon stood by his statement. Belgium's opposition Green party has now asked the minister to explain himself to lawmakers on Wednesday afternoon, group leader Jean-Marc Nollet said on Twitter.