Civil20 – G20 Summit India 2023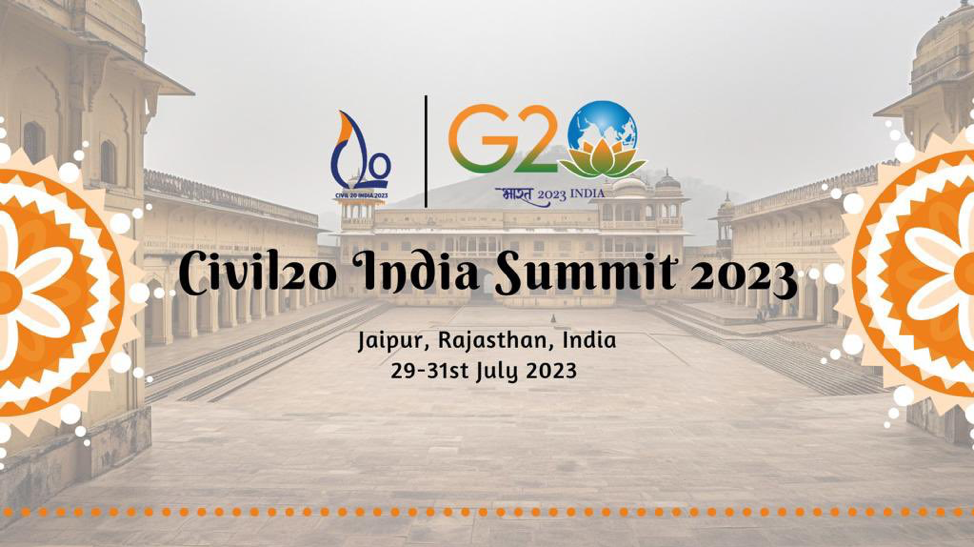 Time: July 29-31, 2023
Venue: Hotel Clarks Amer, Jaipur, India
https://civil20.net/civil20-india-summit-2023-to-shall-be-held-in-jaipur-rajasthan-from-29-31st-july-2023/
The full agenda PDF can be downloaded here.
C20 India 2023 is one of the official Engagement Groups of the G20 that provides a platform for Civil Society Organizations (CSO) around the world to voice people's aspirations to the world leaders in G20. It gives CSOs a forum to protect the agency of this sector, reflect the primary and common concerns affecting the people of the world, and to promote social and economic development with the vision of leaving no one behind.
The logo of C20 India 2023 symbolises the flame of hope, self-motivation, and selfless service. The tagline #YouAreTheLight is a call to every member of civil society to come together, make their own path, find solutions and resolve issues through collective effort.
The Chair of C20 India 2023 is Mata Amritanandamayi (Amma). Amma is a world-renowned spiritual leader and humanitarian and has dedicated her life to the spiritual upliftment of humankind and to helping the poor fulfill their five basic needs: food and water, shelter, healthcare, education and livelihood. As the founder of Mata Amritanandamayi Math (MAM), a charitable organization focused on bringing humanitarian relief to people of all walks of life, Amma has also been particularly focused on meeting the needs of those surviving the aftermaths of major disasters.