(Boston, December 09, 2015) – The Boston Global Forum will launch Global Cybersecurity Day at MIT's McGovern Institute for Brain Research with an online festival at 2:00 PM on December 11, 2015.
The event will be live-streamed at www.bostonglobalforum.org
The online festival, which is open to the general public, is a forum to share digital photos, paintings, videos, or other multimedia that promote a "secure and healthy cyberspace." Participants are also encouraged to share stories of hostile online activity. The festival's ultimate goal is to promote Boston Global Forum's Ethics Code of Conduct for Cyber Peace and Security (ECCC) which proposes ethical online behavior for every part of society, ranging from ordinary citizens to educators, business people, IT experts and policy makers.
The Festival will close at 2:00 AM on January 1, 2016, and the individual whose artwork is shared and liked the most will be honored as the Outstanding Global Citizen for Cyber Peace and Security and become a guest speaker in Boston Global Forum's 2016 conference.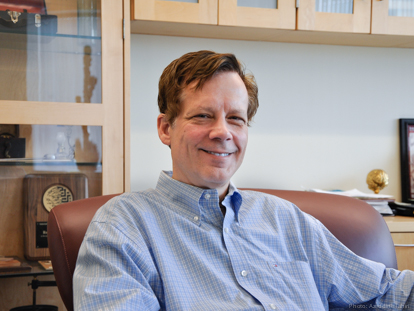 Photo: Professor Robert Desimone, Director of MIT's McGovern Institute for Brain Research will participate in the online festival for Global Cybersecurity Day. 
Professor Robert Desimone, Director of MIT's McGovern Institute and a member of the Boston Global Forum's Board of Thinkers said, "The ultimate goal of the McGovern Institute is to understand the human brain in health and disease. Brain research will change our understanding of how we communicate with each other, how we learn during childhood and throughout life, how we make decisions, how we create new ideas and works of art, and how we can do all of these things better."
The Boston Global Forum launched the ECCC and Global Cybersecurity Day to create a more secure and healthy cyber space. These initiatives also have received strong support from the UNESCO-UCLA Chair on Global Citizenship Education have been used in its educational programs. Photographer Mario Macilau, one of FP's Top 100 Global Thinkers also attends the event to support this activity.
About Boston Global Forum
Boston Global Forum ( BostonGlobalForum.org ) was founded nearly three years ago by former Democratic presidential candidate and Massachusetts Gov. Michael Dukakis, who is now a Distinguished Professor at Harvard University; Prof. John Quelch, the Charles Edward Wilson Professor of Business Administration at the Harvard Business School; Prof. Thomas Patterson, the Bradlee Professor of Government and the Press at the Harvard Kennedy School, and Nguyen Anh Tuan, CEO and Editor-in-Chief of the Boston Global Forum, and the Founder and Chairman of VietNamNet Media Company and VietNet, the first Internet Service Provider in Vietnam.
Boston Global Forum brings together thought leaders to address problems that affect the world and to inspire creative and practical global collaboration to fix them. Just one example of its work is BGF's prominent role in improving working conditions at Asia's manufacturing centers as part of its 2013 initiatives.