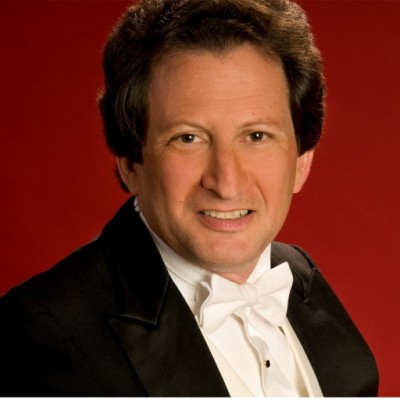 Steven Lipsitt is in his twelfth season as Music Director of the Boston Classical Orchestra.  The Boston Globe has observed: "The concerts have a distinct profile, Lipsitt's and no one else's.  He has a knack."
First Prize Laureate of the inaugural Dimitris Mitropoulos International Conducting Competition in November 1996, Steven Lipsitt made his Russian debut with the St. Petersburg Philharmonic in 1997, and is a frequent guest conductor of orchestras in the United States and abroad, including the Athens Camerata, the West Czech Symphonic Orchestra, the State Symphony Orchestra of São Paulo (Brasil), the Thunder Bay Symphony Orchestra (Canada), the St. Petersburg Camerata of the Hermitage Museum, the Chinese National Opera Orchestra, the Colorado Symphony, the North Carolina Symphony, the San Diego Chamber Orchestra, the Spokane Symphony Orchestra, and the Hudson Valley Philharmonic. He has served as cover conductor for the symphony orchestras of St. Louis, Toronto, and Boston. Foreign critics have hailed his "exalted and well-structured performances" (Le Monde de la Musique, Paris) and praised his "technically and expressively balanced interpretations" (Adesmeftos Typos, Athens).
As a conductor of opera, ballet, and music theater, Steven Lipsitt has collaborated with Scottish Opera, Boston Lyric Opera, English National Opera, Boston Ballet, Saint Louis Ballet, the Boston Music Theater Project, the Boston Conservatory Opera Theatre, and Opera at Longy. He has worked with directors Robert Carsen, James Hammerstein, and Gerald Gutierrez, and choreographers Peter Martins and Daniel Pelzig. He conducted twenty performances of Carousel at the Kennedy Center Opera House with Broadway stars Faith Prince and Tom Wopat. His concert performance of scenes from Boris Godunov was called "an astonishingly vivid account" by The Globe's Richard Buell, who wrote: "Steven Lipsitt's conducting showed real mastery."  In 1994 his production of Viktor Ullmann's Der Kaiser von Atlantis was called "compelling" by The New York Times, while The Globe's Richard Dyer observed: "a razor-sharp intelligence was balanced by a generosity of spirit…Steven Lipsitt conducted with an unusual degree of skill and caring." Dyer named this production Boston's "Best Opera of 1994″ (tied with Robert Spano's Rigoletto at Boston Lyric Opera).
Also dedicated to the training of young musicians, Steven Lipsitt has served on the conducting faculties of the Tanglewood Institute, New England Conservatory, the Hartt School of Music, Boston Conservatory, and Boston University, and has prepared student orchestras for Kurt Masur, Christoph von Dohnányi, Leon Kirchner, Luciano Berio, Stanislaw Skrowaczewski, Sergiu Comissiona, and Gunther Schuller. He holds bachelor's and master's degrees from Yale University, where he was the recipient of awards for exceptional promise and excellence in conducting. His principal conducting studies were with Otto-Werner Mueller at Yale, and in master classes with Herbert Blomstedt, Helmuth Rilling, Charles Bruck at the Pierre Monteux School, and Gustav Meier at Tanglewood. His earlier training included clarinet studies with Boston Symphony Orchestra member Pasquale Cardillo and Yale's Keith Wilson, vocal studies with Joan Heller and Phyllis Curtin, and composition studies with Martin Bresnick and Jacob Druckman.