On October 23rd, 2018, The Public Voice Symposium on AI, Ethics, and Fundamental Rights was successfully completed under the moderation of "Public Voice Coalition". This is a meaningful event held in conjunction with the 40th International Conference of Data Protection and Privacy Commissioners.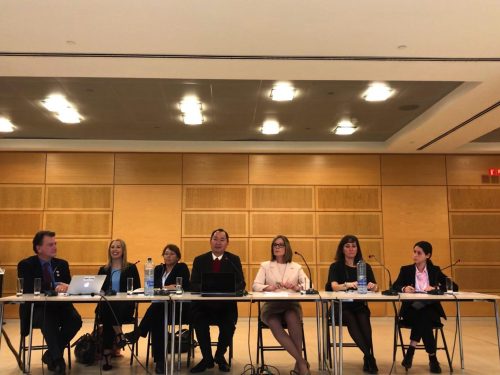 Photo: Speakers and Guest Panel at the Public Voice Symposium
A broad coalition of civil society organizations under the umbrella of the "Public Voice Coalition" jointly hosted the event.  The event consisted of 3 parts: the first part is keynote speech from Professor Anita Allen, Vice Provost for Faculty, Henry R. Silverman Professor of Law, and Professor of Philosophy at University of Pennsylvania Law School. Following the keynote presentation, 2 panels discussing its impacts on human rights, consumer protection, competition; on how to enforce existing laws in the age of AI; on the relationship between ethics and the law and more. The first panel was moderated by Ms. Anna Fielder, Senior Policy Advisor, Trans Atlantic Consumer Dialogue (TACD), focusing on AI's impacts on established legal frameworks. Panel 2, under the moderation of President Marc Rotenberg, Electronic Privacy Information Center (EPIC), who is also a member of the AIWS Standards and Practice Committee, covered the relationship of ethics and the law in the realm of AI. Especially, Panel 2 had the presence of Ms. Elizabeth Denham, UK Information Commissioner, Information Commissioner's Office (ICO); Ms. Helen Dixon, Data Protection Commissioner for Ireland; Ms. Andrea Jelinek, Chair, European Data Protection Board, and Head, Austria Data Protection Authority, and Mr. Nguyen Anh Tuan, Director of the Michael Dukakis Institute for Leadership and Innovation (MDI).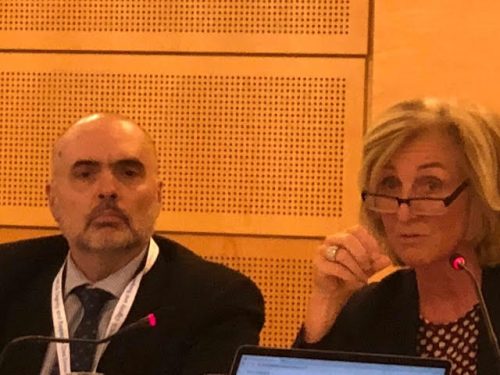 Photo: Guest Panel at the Public Voice Symposium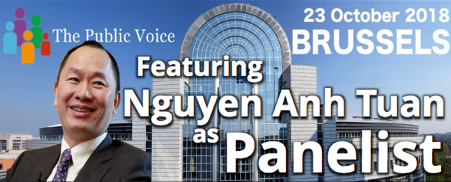 Photo: Mr. Nguyen Anh Tuan, Director of Michael Dukakis Institute for Leadership and Innovation (MDI), and CEO of Boston Global Forum(BGF), is in the panel discussion at the 2018 Public Voice Symposium
The panelists officially published the Universal Guidelines for Artificial Intelligence, which are proposals to inform and improve the design and use of AI at the symposium. The Guidelines are intended to maximize the benefits of AI, to minimize the risk, and to ensure the protection of human rights. These Guidelines should be incorporated into ethical standards, adopted in national law and international agreements, and built into the design of systems.  The Guidelines play an important role in finding a common voice on AI ethics by leaders in regions – also considered a Charter of the AIWS.