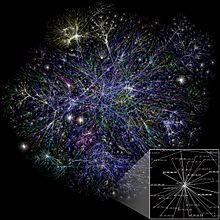 Visualization of some  routes on the Internet.
The Chinese government is imposing new regulations for online advertising that include a wide-range of practices from e-mail to videos. The increasingly authoritarian government is trying to impose more rigorous control of this part of the Internet, in this case, apparently, mostly for public-welfare concerns and not as part of the efforts of President Xi Jinping to tighten the political control of the huge nation by  the Communist Party dictatorship.
The Wall Street Journal reports: "The rules are China's most comprehensive to date, broadly defining online and electronic advertising as including e-mail ads, paid search results, and embedded links, images or videos 'with the purpose of promoting goods or services."'
"The regulations, which take effect in September, lay out guidelines against false or misleading practices and prohibit online ads for prescription medication and tobacco while requiring prior government approval for ads for medical supplies, pesticides, veterinary medicine and other health products."
To read the entire Wall Street Journal article, please hit this link.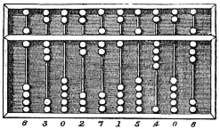 Ancient Chinese abacus, an early "computer".