Shruthi Rao has over a decade of experience in sustainability project management, from inception to implementation. She has worked on environmentally sustainable projects across various industries, including education, newspaper publishing, and IT, encompassing areas such as carbon and water footprint analysis, data center energy efficiency, life cycle assessment (LCA) and e-waste management, and building business case for renewable energy. Working at A Clean Future (ACF) as a managing consultant, Rao is currently expanding her study of sustainability to the garment industry keeping in mind all three levels- health, social and environmental.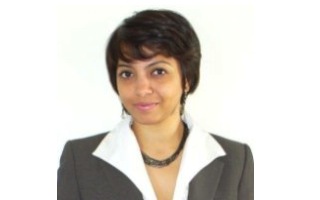 BGF- Is it possible to make fashion, which is such a niche and extravagant industry, sustainable?
Rao- Absolutely! It can be made sustainable and we want to start with apparel in the light of the recent events in the garment industry. Not only are there labor issues and work place safety issues but fashion is also one of the most environmentally polluting industries, especially with chemicals and water. ACF has a think tank component that is aimed at bringing people together to talk about what are the gaps that need to be identified for sustainable fashion. When we did some research, we looked for markers of sustainability of the fashion industry. Food industry has labels, construction has 'green building' options, but there is nothing for apparel, nothing that says how sustainably they were made. That is the talk of 2013. We at ACF want to look at sustainability from sourcing of raw material to manufacturing to production to use and disposal.
BGF-What is the final aim of ACF's project?
Rao-As a think tank we try to identify gaps. The history of the fashion-industry shows that it is not a forward-thinking industry, not even their technology and business models. But what they respond to, very quickly, is consumer demand. The only way to bring about change in the industry is by leveraging consumer demand. We realized that there was no way to convey to consumers, while they shop, whether the garment was made sustainably or not. Currently, the only way is to research brand reputation and brand reputation can be easily skewed or mislead. We started looking for product-level information for consumers. Every garment bears information on how to iron or wash or where it was made, but nothing on how it was made. So we decided to conduct a market assessment to see if consumers would be interested in such information at a product level. We launched our internet survey about a month ago and 400 people have already filled it out. Our plan is to publish our findings about this consumer insight in a white paper and then raise awareness on how much consumers would like to know about these issues. We are trying to understand what are those cultural idiosyncrasies are that make consumers choose one garment/brand over another. We want to find out all aspects of sustainability and then find a way to describe it in a simply packaged manner- like a label on a garment. We also want to speak with fashion industry representatives and see what's possible for them and if they would be ready for a label. We think companies like Patagonia and Eileen Fisher would be interested in communicating their responsible actions to people. We are also interested in finding out if retailers and departmental stores would be interested in reserving a section for sustainable clothes if brands and consumers express interest and willingness.
The Sustainable Apparel Coalition came up with the Higg Index – a standardized way of collecting information from all companies. From the industry-side there is effort going on. But there is not much happening at the other end. We hoped to bridge the gap and initiate effort from the consumer side too.
BGF-How will you source information on sustainability and how do you plan to present it?
Rao-We can't go by what brands say so we are looking at combining information from each brand to get this information. For this, we'll refer to the Higg Index. The Higg Index is a way of organizing all available brand information such that it is easily and readily available to the public. If I want to, I can go to a company's annual report to find out how sustainable they are but for an end consumer, this is not always possible. We are looking into different methods- either take information from the public domain and display it, or communicate with fashion brands and use their information to convey it to consumers or work with Sustainable Apparel Coalition to deliver their research. We're conducting an evaluation project to assess which method works best.
Our aim is to avoid confusing labels, like the ones that exist in the food industry. We want to standardize our information and present it in a way that resonates with the larger group not just the ones who are sustainably inclined. We want the information to be readily available so consumers don't have to conduct independent research. Campaigns like GoodGuide are good for people who care enough to look. We want to find a way that makes product information available without the extra step of searching for it. 
As our next step, we want to do industry surveys and get industry feedback on how to present this information about sustainability to consumers.
To read more about 'A Clean Future's' sustainable fashion initiative and its consumer survey, please click here.