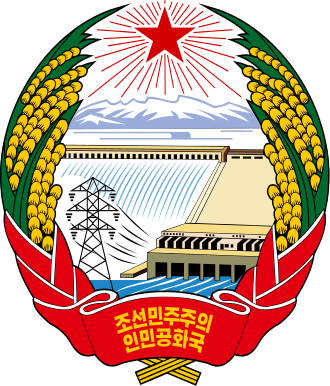 The emblem of North Korea.
North Korea has  predictably called U.S.  sanctions against North Korean dictator Kim Jong-un and other senior  Kim regime officials for human-rights abuses a "declaration of war". Pyongyang said the announcement of sanctions was a "hideous crime".
It's hard to believe that it took so long, but the United States imposed its first sanctions targeting any  individual North Koreans for rights abuses on July 6.  The assets of Kim and  10 other  high-level people and five government ministries and departments  within U.S.  jurisdiction are now blocked.
Meanwhile, U.N.  Secretary-General Ban Ki-moon, a former South Korean foreign minister, hopes  that China will urge its ally North Korea to cooperate internationally on human rights, his spokesman Stephane Dujarric said July 7 in New York. Such hopes have been expressed many times before with no effect.
For a longer article on this, please hit this link.