(April 18th, 2016) UNESCO and the Commonwealth of Nations (formerly called the British Commonwealth) have announced a program in which they will step up their cooperation in education, youth, sport, peace-building and dialogues. The agreement will focus on  closely collaborative approaches — for example, the Commonwealth's on-line Education Hub can be used to support UNESCO's program in Global Citizenship Education.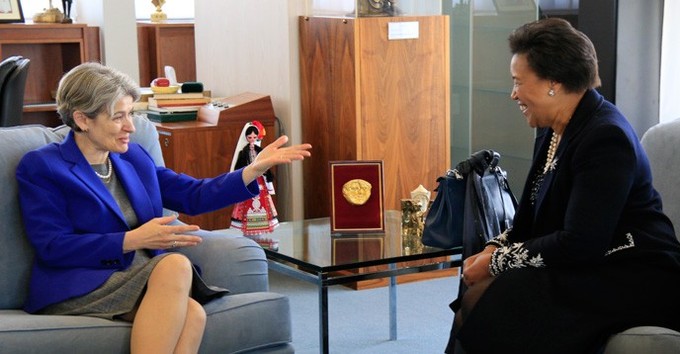 The Boston Global Forum (BGF) collaborates with UNESCO on global education and citizenship projects, especially through the Global Learning and Global Citizenship program at the University of California at Los Angeles (UCLA). Prof. Carlos Alberto Torres, Distinguished Professor of Social Sciences and Comparative Education and UNESCO Chair in Global Learning and Global Citizenship Education at UCLA, is a member of the BGF's Board of Thinkers.
After a signing ceremony with the Commonwealth's Secretary General,  Patricia Scotland, UNESCO Director-General Irina Bokova underlined the importance of deepening cooperation across the board. "I believe the time has come, indeed to update it, to strengthen cooperation, with a focus on education, on youth empowerment, on promoting intercultural dialogue,"she  said.
Ms. Scotland said  that by working together, the two organizations can boost their efforts to empower young people  to take on some of the world's most pressing problems, from climate change to ending poverty. ''I am confident that this renewed partnership will lead to concrete results in a range of areas, from the development of curricula to support the Sustainable Development Goals to the creation of alternate narratives to those of extremist recruiters, in order to counter violent extremism.' '
Ms. Scotland addressed UNESCO's Executive Board, briefing them on her priority areas:"ending domestic violence, reducing the impact of climate change and creating opportunities for young people."
UNESCO and the Commonwealth first signed a memorandum of understanding in 1980. This latest renewal will last for five years.