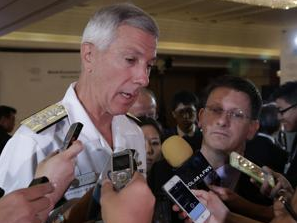 (Photo Credit: Bullit Marquez/AP)
(BGF) – Jim Gomez, reporting for The Associated Press, recently wrote of U.S. Admiral Samuel Locklear's warning that a miscalculation in the dispute between China and Vietnam could trigger a larger conflict. According to Gomez, Adm. Locklear "urged both nations to exercise restraint" and to develop a legally binding code of conduct that would prevent territorial disputes from escalating into conflicts that would harm the region's growing economies. Click here to read the full article or visit The Associated Press' website.
US Commander Warns About China-Vietnam Standoff
By Jim Gomez
MANILA, Philippines (AP) — The U.S. military commander in the Pacific warned Friday that the risk of a miscalculation that could trigger a wider conflict in a tense territorial standoff between China and Vietnam is high and urged both nations to exercise restraint.
Adm. Samuel Locklear also urged Southeast Asian nations and China to hasten the drafting of a legally binding "code of conduct" to prevent territorial rifts from turning into armed conflicts that could threaten the region's bustling economies.
Southeast Asian diplomats have accused China of delaying the start of negotiations for such a nonaggression pact while it tries to consolidate its control of disputed territories.
Locklear said he was concerned about a three-week standoff between China and Vietnam near the disputed Paracel Islands and urged them to resolve the territorial conflicts on the basis of international law.
"I have serious concerns," Locklear told reporters. "The risk of miscalculation, I think, is high and we encourage them both to exercise restraint."
China raised the stakes earlier this month when it deployed an oil rig off in waters also claimed by Vietnam, which sent ships to try to disrupt the drilling operation. Street protests morphed into bloody anti-Chinese riots that damaged hundreds of factories.
Vietnamese Prime Minister Nguyen Tan Dung, who also attended an economic forum in Manila, told The Associated Press in written comments Thursday that "like all countries, Vietnam is considering various defense options, including legal actions in accordance with the international law." But he said Vietnam would defend itself if it comes under attack.
Analysts have said that countries confronted by China in disputed waters, like Vietnam, may seek a deeper security alliance with Washington.
Click here to read the full article.