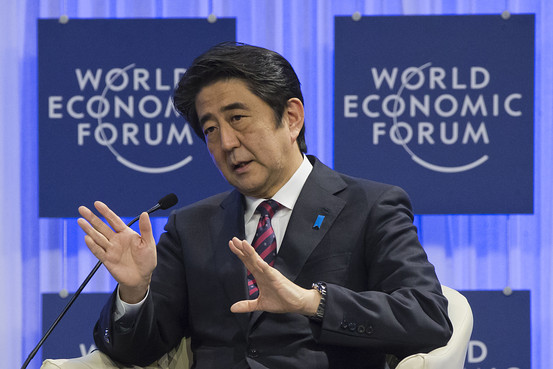 (Photo Credit: Associated Press)
(BGF) – This article, published in the Wall Street Journal, addresses comments made by Japan's Prime Minister Shinzo Abe in which he compared current tensions between Japan and China to the pre-WWI tensions between Britain and Germany. Prime Minister Abe's comments sparked concerned debate about the prospect of war between China and Japan, the regional implications, and the implications for the alliance between Japan and the United States. The full article is available at the Wall Street Journal. 
Shinzo Abe's History Lesson Haunts Davos
By Andrew Browne
DAVOS, Switzerland—The star of this year's gathering of the global elite in Davos, Japan's Prime Minister Shinzo Abe, came with a rousing message about his country's economic recovery. "Japan is back," he declared in a keynote speech.
And yet, he managed to create a bigger stir with apparently offhand remarks to reporters that compared tensions between Japan and China to rivalries between Britain and Germany on the eve of World War I.
To be sure, Mr. Abe made clear that he doesn't see war coming. But he nonetheless set off conversations about the prospects of armed conflict between the world's second and third largest economies among many of the senior-level bankers, business executives, politicians and others who turn up at Davos each year.
Over private dinners and cocktail parties at the Alpine ski resort they turned to handicapping the chances of war breaking out in a dispute between Japan and China over a set of uninhabited rocky islets in the East China Sea.
The fact that all-out war is now being discussed as a genuine risk among the people who run the global economy is, in itself, a troubling sign.
For weeks, Chinese and Japanese officials have been hurling insults at each other. The Chinese ambassador to the United Kingdom, Liu Xiaoming, fanned the flames with an article in the Daily Telegraph comparing Japan to Lord Voldemort, the arch villain of the Harry Potter novels. His salvo was inspired by a visit by Mr. Abe last month to the Yasukuni war shrine, which many in Asia see as a monument to Japanese militarism.
Still, Mr. Abe's musings on the roots of World War I, and its echoes in contemporary Asia, were startling to hear, even though they picked up on a theme that is being widely discussed by historians and security analysts on the 100th anniversary of the start of the Great War.
Asked about Mr. Abe's comments, China's chief foreign ministry spokesman, Qin Gang, accused Mr. Abe of "arms expansion and war preparation."
The question now is where this battle of words is leading; whether, as happened in 1914, the world could stumble into a real war, if only by accident.
Joseph Nye, a Harvard University professor and a former chairman of the U.S. National Intelligence Council, says that "there's a danger of overdoing this World War I analogy" even though he sees "cautionary notes" from history. The world is very different now, he says.
For one, there's a nuclear deterrent. Although Japan has forsworn nuclear weapons, it is backed by the U.S., the regional policeman, which has made clear that its security arrangements with Japan cover the disputed islands known in China as Diaoyus and in Japan as Senkakus. Thus, even a limited war would immediately raise the specter of nuclear confrontation between the U.S. and China.
Also, while it's true that nationalistic grandstanding serves a domestic political purpose in both Japan and China, leaders of the two sides have strong incentive to keep tensions from spiraling out of control as they focus on ambitious, and difficult, economic reforms.
Japan's economy under Mr. Abe is showing real signs of life for the first time in two decades, although the long-term success of what is dubbed "Abenomics" is far from assured.
In China, meanwhile, President Xi Jinping is trying to delicately steer the economy toward slower and more sustainable growth.
Then there's a wild card: North Korea, which scares everybody in the neighborhood, including China, and could focus minds on avoiding conflict over specks of rock. Diplomatic tensions are already playing into the hands of a nuclear-armed, and increasingly unstable, Pyongyang regime that is always looking for ways to exploit differences between players in the region.
Ties between Japan and South Korea have been badly strained by Mr. Abe's visit to Yasukuni, which reopened historical wounds from Japan's invasion and brutal colonization of the Korean peninsula.
Meanwhile, the visit has also tested relations between the Japan and the U.S., which has expressed its displeasure and is urging Mr. Abe not to go again.
Peace, of course, was the foundation for Asia's modern liftoff, and it underpins the prosperity of a region that is now the engine of global growth. China itself has long preached that it can't complete its economic rise without a peaceful international environment.
Click here to read the full article.