On December 12, 2018, the Global Cybersecurity Day 2018 took place at Loeb House, Harvard University, MA, organized by the Boston Global Forum (BGF) and the Michael Dukakis Institute (MDI). One of the most important parts of the event was the introduction of AIWS Ethics and Practice Index delivered by Dr. Thomas Creely, Member of the AIWS Standards and Practice Committee.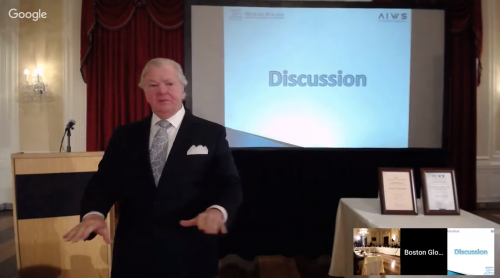 Dr. Thomas Creely is a member of The AIWS Standards and Practice Committee. He serves as an Associate Professor of Ethics, Director of Ethics & Emerging Military Technology Graduate Program.
On behalf of the authors group, Dr. Thomas Creely presented the AIWS Report about AI Ethics and published the Government AIWS Ethics Index. This index measures the extent to which a government in its Artificial Intelligence (AI) activities respects human values and contributes to the constructive use of AI in such unprecedented pace of development. The report has been conducted in effort to reach a common accord of respect for the norms, laws, and conventions in the AI world in a diversity approaches and frameworks in countries.
There are 4 main categories in the Index:
Transparency: Substantially promotes and applies openness and transparency in the use and development of AI, including data sets, algorithms, intended impacts, goals, and purposes.
Regulation: Has laws and regulations that require government agencies to use AI responsibly; that are aimed at requiring private parties to use AI humanely and that restricts their ability to engage in harmful AI practices; and that prohibit the use of AI by government to disadvantage political opponents.
Promotion: Invests substantially in AI initiatives that promote shared human values; refrains from investing in harmful uses of AI (e.g., autonomous weapons, propaganda creation and dissemination).
Implementation: How governments seriously execute their regulations, law in AI toward good things. Respects and commits to widely accepted principles, rules of international law.
Further discussion took place after Dr. Creely's presentation, there are questions on the future of AI. Though it is difficulty to anticipate how AI will change humanity, it's believed that we have great scientists and scholars who are continuously working and preparing us for whatever is coming.
Watch full speech of Dr. Thomas Creely at the Global Cybersecurity Day 2018