On December 1, World Leadership Alliance – Club de Madrid is celebrating its President Vaira Vike-Freiberga 85th birthday.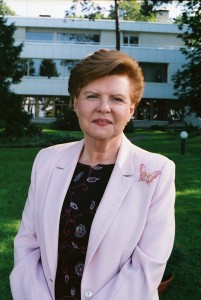 Dr. Vaira Vike-Freiberga is the former President of Latvia (1999-2007) and the President of the World Leadership Alliance – Club de Madrid (WLA-CdM) since 2014.
Since the end of her presidency in July 2007, Dr. Vike-Freiberga has been actively participating as an invited speaker at a wide variety of international events. She is a member, board member or patron of 29 international organizations, including the WLA-CdM, the Council of Women World Leaders, the International Criminal Court Trust Fund for Victims, the European Council on Foreign Relations, as well as four Academies. Among her international activities, in December 2007, she was appointed by the European Council's Vice-Chair of the Reflection Group on the long-term future of Europe. From 2011 to 2012, she chaired the High-level Group on Freedom and Pluralism of the Media in the EU.
Regardless of her age, she continues to make outstanding contribution to the world. She is also a member of Boston Global Forum's Board of Thinkers. On May 15, 2018, Dr. Vike-Freiberga was honored as the Distinguished Innovation Leader for her distinguished work in the humanities and social sciences by Boston Global Forum and Michael Dukakis Institute.