On the occasion of the 40th anniversary of China's opening up and reform process, The 2018 Imperial Springs International Forum (ISIF) under the theme of "Advancing Reform and Opening-Up, Promoting Win-Win Cooperation" took place in Guangdong on December 10-11th with the participation of Vice-President of the People's Republic of China, Wang Qishan and around 80 prominent leaders, distinguished experts from over the world.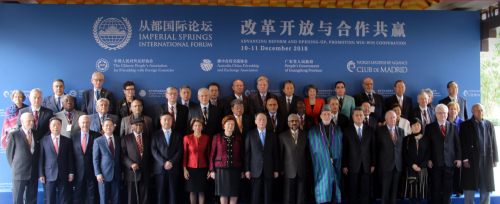 The Imperial Springs International Forum has become an important platform for dialogue between China and the rest of the world, where leaders and experts constructively exchange views, contributing to improved global governance since 2014. It was jointly organized by the Chinese People's Association for Friendship with Foreign Countries (CPAFFC), the People´s Government of Guangdong Province, the Australia China Friendship Association (ACFEA), and the World Leadership Alliance – Club de Madrid.
The 2018 forum concentrates on discussing interconnected topics including China's new policies and its contribution to the world especially the Belt and Road Initiative (BRI) as well as sharing the view of building a community of shared societies, based on shared interests and shared responsibility to craft a shared future for humankind. The forum also found that protectionism and isolationist tendencies must be rejected in the context of the 21st century.
At the same time, noting that the interests of countries around the world are deeply intertwined nowadays, the forum was committed to work on a global system which uphold inclusive rules-based global governance architecture to promote peace and security, foster innovation and technological development to contribute to global trade and focus on international cooperation to achieve balanced development and prosperity with the aim to effectively implement the UN Agenda 2030 to "leave no one behind".