Zhu Hua and Zhang Shilong, nationals and residents of China were inculpated for stealing trade secrets and other sensitive information from U.S. tech companies in the latest indictment unveiled by the Justice Department.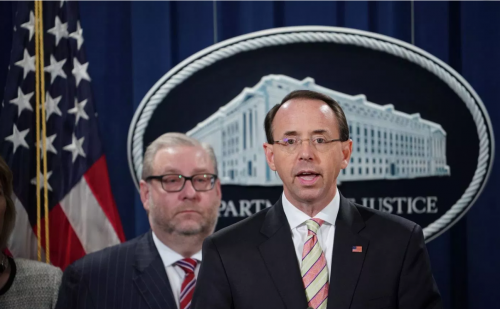 The two hackers from China were charged with three counts including computer hacking, conspiracy to commit fraud and aggravated identity theft.
The prosecutor claimed that they were part of a Beijing-backed group dubbed APT10, which had worked with many security companies in China. The men are accused of stealing "hundreds of gigabytes of sensitive data" in aviation, space and satellite technology manufacturing and many key sectors. The victims of the crime were not mentioned. It was said that the Chinese hackers had targeted the customer's data of Hewlett Packard Enterprise and IBM as well as personal information including salary, emails, birthday, and social security number of 100,000 U.S Navy Personnel.
Dmitri Alperovitch, Chief Technology Officer at CrowdStrike, who were honored by BGF as the Practitioner in Cybersecurity 2016, which has tracked APT10 in recent years, called the Justice Department's move "unprecedented and encouraging" to take action against China.
"Today's announcement of indictments against Ministry of State Security (MSS), whom we deem now to be the most active Chinese cyber threat actor, is another step in a campaign that has been waged to indicate to China that its blatant theft of IP is unacceptable and will not be tolerated," he said. "While this action alone will not likely solve the issue and companies in US, Canada, Europe, Australia and Japan will continue to be targeted by MSS for industrial espionage, it is an important element in raising the cost and isolating them internationally."