On May 18 in Riga, Latvia, former President of Latvia Vaira Vike-Freiberga discussed with Mr. Nguyen Anh Tuan, CEO of BGF), the AIWS initiative and potential cooperation to host other AIWS events in Latvia.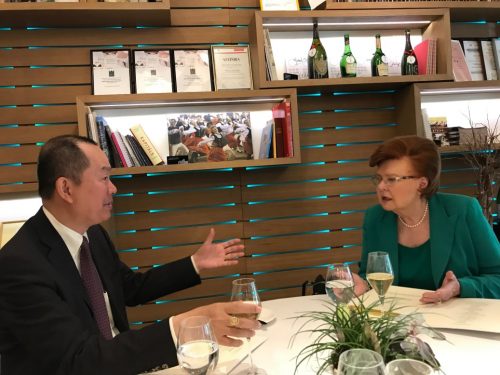 In the meeting, Mr. Nguyen Anh Tuan  proposed an idea towards Riga and Latvia's development: by pioneering a new AI culture which combines traditional culture and AIWS culture in the era of AI World Society. With many traditions and achievements already existing, Latvia will play an important role in helping AI contribute to peace and security in the Baltic and Northern Europe. At the same time, Latvia can become one of the pioneers along with the MDI and BGF, calling for an AI Peace Treaty.
The AIWS initiative, which the AI Peace Treaty is a part of, was created by The Michael Dukakis Institute for Leadership and Innovation (MDI), working in concert with BGF. As an offshoot of BGF, MDI was born in 2015 with the mission of generating ideas, creating solutions, and deploying initiatives to solve global issues, especially focusing on Cybersecurity and Artificial Intelligence.