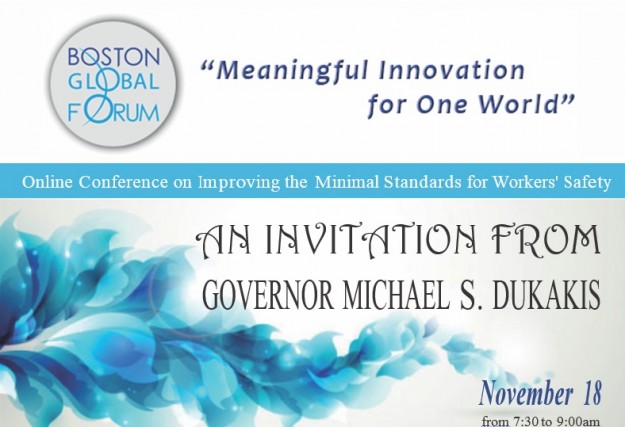 Dear Friends,
We all recall the Rana Plaza tragedy on April 24, 2013. Over 1,000 Bangladesh workers died in a workplace that did not meet minimal standards for worker safety and dignity. As Chairman of the Boston Global Forum, I write to inform you of an Online Conference on Improving the Minimal Standards for Workers' Safety. The conference will take place on Monday November 18 from 7:30 to 9:00am EST (to accommodate participants from Asia).
During the 90 minutes, we'll discuss why the Rana Plaza tragedy occurred and what needs to be done to improve workplace conditions for workers in Bangladesh and elsewhere. Our online discussion will be moderated by Professor John Quelch of the Harvard Business School who recently completed two case studies on the Rana Plaza tragedy. Professor Quelch will be joined on-line by myself and by longtime journalist and labor expert Robert Kuttner, founding co-editor of the American Prospect magazine. Also participating will be a select group of individuals from the fields of public affairs, business, labor, and civil society.
More information about the conference can be found at www.bostonglobalforum.org. You can view the conference through the same website at 7:30 am (EST) on Monday, November 18. After the event, we will post on our website a video of the conference for those unable to see it live.
Best regards
Michael S. Dukakis
Chairman, Boston Global Forum