(BGF) – Boston Global Forum (BGF) is kicking off its Online Festival on the Global Cybersecurity Day encouraging people around the world to share their original piece of arts online via its Facebook, which are in forms of digital photo, painting, video, stories or other multimedia products that arouse the love and friendship among people, and alarm them to be vigilant about cyber incident which might cause negative consequence to other's fame and life.
Here comes the chance for all to win a trip to Boston and meet with professors of Harvard and MIT by proving yourself as a responsible Netizen and Global Citizen and show your support to the Ethics Code of Conduct for Cyber Peace and Security by spreading the love and friendship, or awakening people's consciousness about bad consequence that might happen because of hostile online activities.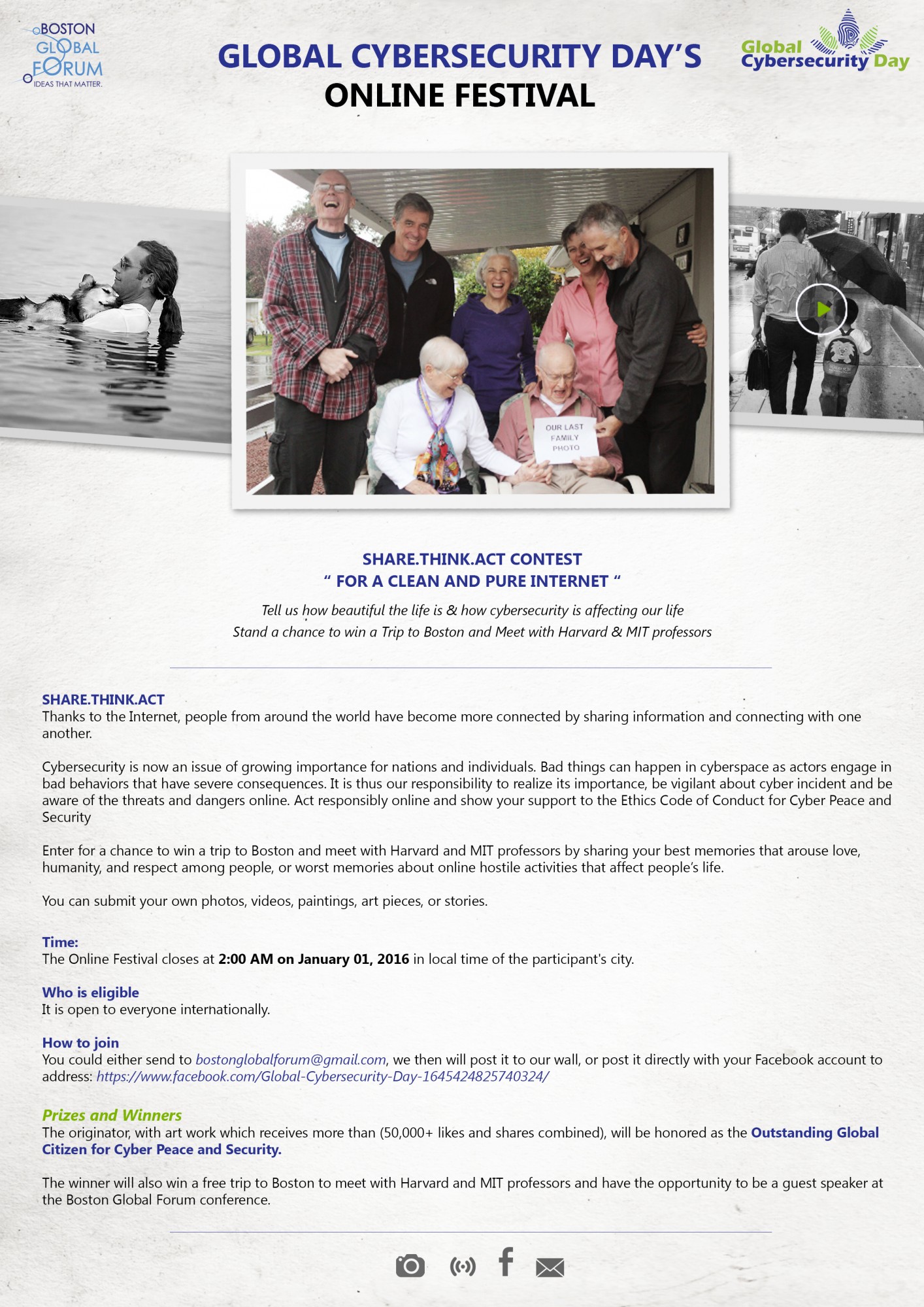 When the event ends?
The online festival closes at 2:00 AM on January 01, 2016 in local time of participant's city.
How to join?
Every one could either send their works to [email protected] and BGF will help post them to our wall, or
Post it directly with your Facebook account to address at https://www.facebook.com/Global-Cybersecurity-Day-1645424825740324 
Prizes and Winners
The originator, with art work which receives more than (50,000+ likes and shares combined), will be honored as the Outstanding Global Citizen for Cyber Peace and Security.
The winner will also win a free trip to Boston to meet with Harvard and MIT professors and have the opportunity to be a guest speaker at the Boston Global Forum conference in 2016.
About the Global Cybersecurity Day
Global Cybersecurity Day is an initiative of Boston Global Forum, meant to inspire the shared responsibility of the world's citizens to protect the Internet's safety and transparency. As part of this initiative, BGF also calls upon citizens of goodwill everywhere — from ordinary people to leaders — to follow BGF's Ethics Code of Conduct for Cyber Peace and Security (ECCC).
It will be held at 12:00 noon (local time) on December 12 annually in Tokyo, Bonn, Nha Trang, and Boston. The event also encourages open dialogue, from many perspectives, about cybersecurity and will also honor individuals, organizations, and initiatives that have made the greatest contributions to a safe cyberspace.
About Boston Global Forum
Boston Global Forum ( BostonGlobalForum.org ) was founded nearly three years ago by former Democratic presidential candidate and Massachusetts Gov. Michael Dukakis, who is now a Distinguished Professor at Harvard University; Prof. John Quelch, the Charles Edward Wilson Professor of Business Administration at the Harvard Business School; Prof. Thomas Patterson, the Bradlee Professor of Government and the Press at the Harvard Kennedy School, and Nguyen Anh Tuan, CEO and Editor-in-Chief of the Boston Global Forum, and the Founder and Chairman of VietNamNet Media Company and VietNet, the first Internet Service Provider in Vietnam.
Boston Global Forum brings together thought leaders to address problems that affect the world and to inspire creative and practical global collaboration to fix them. Just one example of its work is BGF's prominent role in improving working conditions at Asia's manufacturing centers as part of its 2013 initiatives.
BGF has been hosting international meetings in 2015 aimed at building an Ethics Code of Conduct for Cyber Peace and Security (ECCC) to promote a healthy cyber environment.