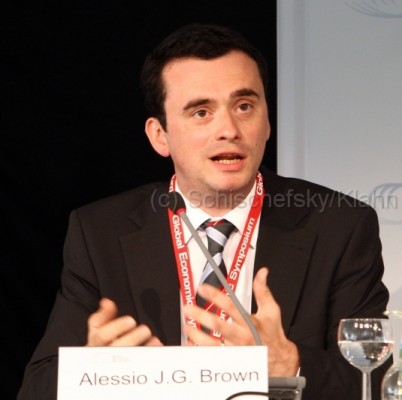 Dr. Alessio J. G. Brown is currently executive director of c(GES) since September 2007, and is visiting researcher at Kiel Institute for the World Economy since January 2011. Dr. Brown's research focuses on employment incentives and employment policies.
Between 2004 and 2010, he was economist at the Kiel Institute for the World Economy. He was Head of the Research Area Reforming the Welfare Society from 2008 to 2010. Between 2007 to 2010, he was  the senior advisor to the President and  Kiel Institute for the World Economy.
Dr. Brown is known for his expertise in reforming the welfare society and labour economics. He has published many articles on employment policies, most recently "Comparing the effectiveness of employement subsidies" (2011), and many more in leading journals such as IZA Discussion Paper, Kiel Working Paper, European Journal of Political Economy.
Dr. Brown was born in Rome, Italy, hold Ph.D in Quantitative Economics at  the Christian-Albrechts-University Kiel in 2009; Diploma in Business Administration at University of Passau (2003); Bachelor of Commerce at University College Dublin (1999).