Instructions on Joining
BOSTON GLOBAL FORUM CONFERENCE
Nov 18th 7.30-9am EST
Prior to our conference, attendants are strongly suggested to read Professor John Quelch's cases and send any preliminary questions to  [email protected]
Open browser (preferable Chrome or Firefox) and go to  https://attendee.gotowebinar.com/register
Enter the Webinar ID that has been emailed to you (9 digit number)
Press CONTINUE
Once in, you will be prompted to Download the GoToWebinar software
Please download and install the application to start using GoToWebinar
If you are a returning user and already have the application installed, the browser will automatically launch the application (press Launch Application on prompt to allow)
You will be asked to Enter your Display name in order to join. Enter your details and you are ready to join the conference.
-During the Conference, the moderators will select a PRESENTER.
-If you wish to ask a question, you can type in the CHAT window.
-A presenter will have the option to SHARE his screen with the rest of the confence as – well as his Webcam.
-All attendants will be muted by default when the session starts.
-If you have questions for the presenter and the panelists, please send them to
-While attending our Conference, you are also invited to follow and post questions to our Twitter page: https://twitter.com/BostonGF
(Please see pictures below for more information)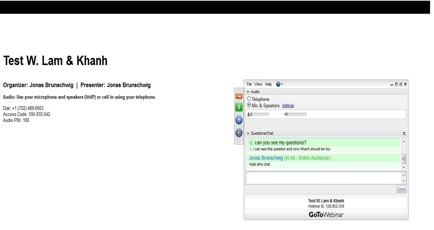 This is how the GoToWebinar platform would look like.